Last week, Google showed off its latest Android 4.1 version (Jelly Bean) at Google I/O event. The search giant is currently focusing on the project (Project Butter) to improve Android's overall performance including power saving measures. I have already discussed about Google search (integrated with Jelly Bean), which is considered even better than Apple's Siri. In addition to these, the OS also provides an actionable notification, enables users to call or email other directly from the notification screen rather than to work separately with email apps.
Anyway, Android latest version (Jelly Bean) has numbers of features and devices such as Samsung Galaxy Nexus and Google Nexus Tablet are being powered by the OS.
On the basis of number of Android devices accessed the Google Play within 14 days period ending July 2, Google has released an update for the distribution of different Android versions. Android ICS version penetration has first time surpassed 10% figure in July and now it's accounting 10.9% of Android's overall market share.
Gingerbread is still dominating over all versions with 64.0% by July 2 of this year, followed by Froyo, Eclair and Honeycomb with 17.3%, 4.7% and 2.4%  share respectively. Last month, ICS surpassed 7% of Android's overall market share and it's penetration has been increased by 3.8% during a month period ending July 2. However, market share of Gingerbread has been declined by 1% since last month.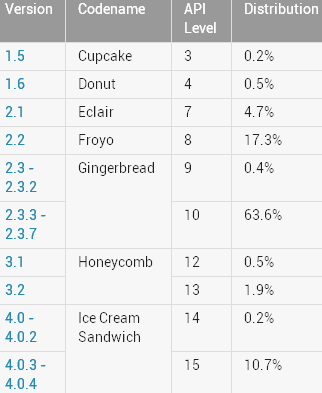 A graph (below) has been provided to demonstrate how the market share of Android 4.0.3 and 4.0.4 uniformly increased during a month period (from mid of June to July 1). Despite of dismal initiation, Ice Cream Sandwich has outburst the market from April onward of this year.
Google is now concentrating its target on latest Jelly Bean version and it's trying to outclass Apple's forthcoming iOS 6. Undoubtedly, Google has integrated numbers of features in the latest OS and we could expect more later this year. Apple has deeply integrated social networking sites ( Facebook and Twitter) and it's also trying to embed own 3D map into iOS 6. However, Google is also experimenting on its own Map (it's well-known that Apple ditched Google Map from its upcoming OS). One thing is clear, the penetration of Android ICS version will increase in next six months and we might expect the same for  Jelly Bean as well.