How users are conscious about the mobile number portability seems from a recent report, provided by the Telephone Regulatory Authority of India (TRAI). According to the report, 45.89 million subscribers submitted their requests for mobile Number porting to variant service providers by the end of April 2012. However, the number of requests was 41.87 million by the end of March and 4.2 million new requests were registered during April of this year.
In MNP Zone-I (Northern & Western India), Gujarat reported highest number of porting requests (4.23 million) in April of this year, followed by Rajasthan and Maharashtra with 4.10 million and 3.7 million requests respectively during the same period. While in MNP Zone II (Southern & Eastern), Karnataka registered 5.11 million porting requests in April of this year, followed by Andhra Pradesh and Madhya Pradesh with 4.44 million and 2.6 million requests respectively.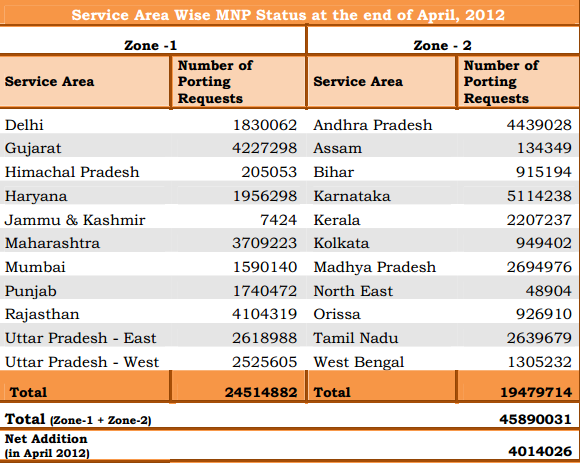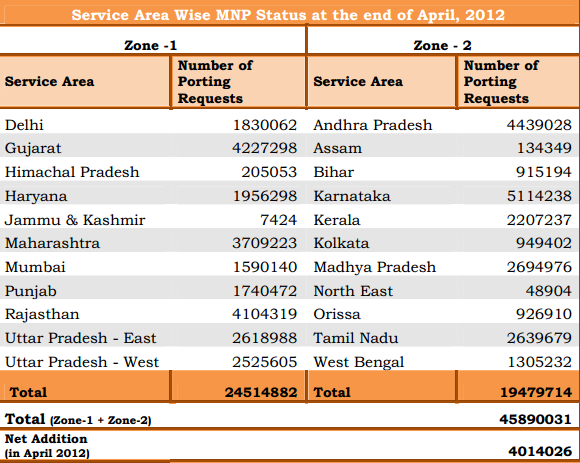 April 2012 could not be considered as a good month in terms of wireless subscribers base, which declined to 31.89 million at the end of April 2012 compare to 32.17 million of the prior month. However, contribution of urban subscribers (to total wireless subscribers base) increased from 76.54% (in March) to 76.72% (April 2012), whereas the share of rural subscribers declined by 0.18% in April of this year compare to the previous month.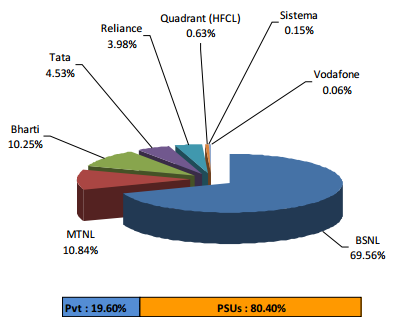 The figure (shown above) demonstrates the market share of different wireless service providers. It's clear from the pie chart that BSNL is dominating with 69.56% market share, followed by MTNL, Bharti Airtel, Tata and Reliance with 10.84%, 10.25%, 4.53% and 3.98% shares respectively.
In terms of net addition in April 2012, Tata was at the top among all wireless service providers with 1.69%, followed by Bharti Airtel and Sistema with 0.09% and 0.23% respectively. Indeed, April was one of the worst months for BSNL recorded -101.89% share in net addition.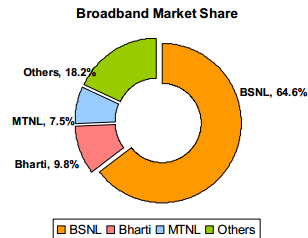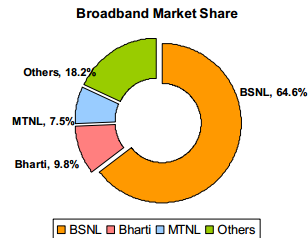 Undoubtedly, India is considered as one of the growing broadband market. However, it's true that almost 50% of total web traffic in the country comes from mobile devices. In April 2012, number of broadband subscribers increased to 13.95 million from 13.79 million in the previous month, representing a monthly growth of 1.13%.  India has reported a 15.04% year-over-year growth in April of this year, which is a good indication for broadband service providers.
Source: TRAI