Indiscriminately, the world is demanding 4G wireless services, but it's matter, whether consumers are willing to adopt the service or not. According to a research analysis firm–Nielsen–, younger consumers in the U.S. are most likely to adopt 4G services within the next year. Thanks to the proliferation of high end Smartphone and  Tablet have forced consumers to rely on 4G services. 4G is going to become a new parameter in the mobile marketplace, enables faster data transferring and receiving.
It's really engrossing to know that the penetration of 4G mobile handset across the country. The penetration raised to quadruple (7.6%) in the first quarter of this year compare to the same quarter of the prior year, which was just 1.4%. It's pretty clear from the below graph that 63% teens are more willing to switch to 4G network within the next year.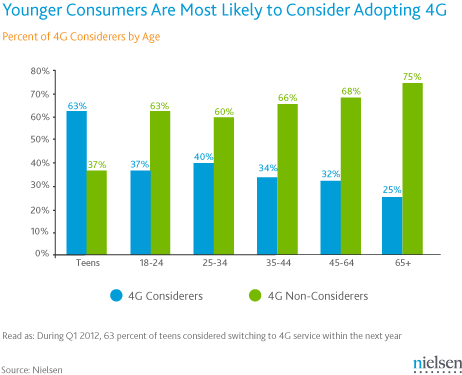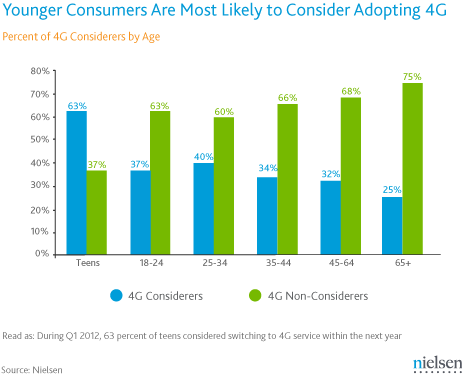 It's quite obvious, awareness and adoption of 4G services are continuously increasing year-over-year. Ironically, 55% respondents (during the survey period) were unfamiliar with any forms of the 4G technology in the U.S. However, the satisfaction percentage was quite high, 86% respondents said that they were satisfied with 4G services across the country compare to 3G services.
Apparently, in the context of battery wake up, just 46% of 4G Smartphone owners were satisfied with their mobile device. It had been noticed that a portion of consumers were toggling between 3G  and 4G services in order to protect their battery from drainage.
How 4G services influenced users to purchase specific device (4G devices) seemed during the survey period, 39% of 4G Smartphone owners told that they purchased 4G enabled device after influencing from the services. Indeed, 4G services are more important to those having data card or mobile hotspot.
Smartphone and Tablet users are currently more willing to access music streaming, social media websites, video downloading, video conferencing and more, undoubtedly, these activities have increased wireless web traffic. Indeed, there's need to increase bandwidth in order to surplus the increasing web traffic consumption.
Source: Nielsen