Undoubtedly, GSM connections are uniformly increasing in India month-over-month. Number of GSM connection reached to 677.8 million in the last month. In May 2012, Airtel was leading with 185.30 million connections in India, followed by Vodafone, Idea, BSNL and Aircel with 152.49 million, 115.97 million, 94.69 million and 64.39 million connections respectively in the same month.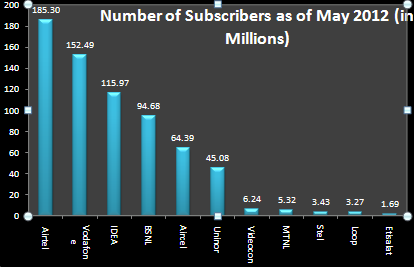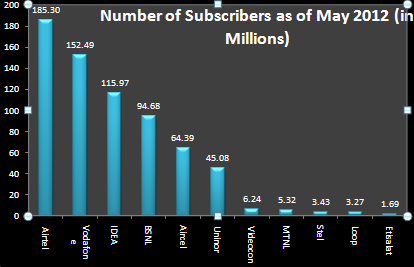 In terms of subscriber additions, Airtel once dominated over all other vendors with 2.01 million new GSM connections, followed by Idea, Uninor and Vodafone with 1.76 million, 1.52 million and 1.20 million additions respectively in may of this year. On the contrary, GSM connections deteriorated by 0.17 million in the case of MTNL in the last month.
In terms of market share, Airtel, Vodafone, Idea and BSNL were at first, second, third and fourth positions with 27.34%, 22.50%, 17.11% and 13.97% shares respectively in the last month of this year.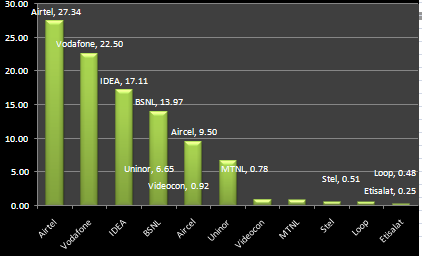 Subscribers figure have tremendously been increasing since last six months, reached to 677.85 million in the last month, up from 670.57 million in April of this year.
It's pretty clear from the below graph that new GSM connections were optimum in February of this year. However, new GSM connections in the last month was somewhat better compare to last two prior months.
In May, UP East dominated in terms of subscriber baseline with 58.95 million, followed by Tamil Nadu and Maharashtra with 52.44 million and 50.86 millions. UP E was again at top in percentage changes with 2.51% , followed by J & K with 2.31% change.
Subscribers additions in  UP east zone (1.44 million) was maximum in the last month, followed by Maharashtra, Bihar, Madhya Pardesh and Andhra Pradesh with 0.713 million, 0.705 million, 0.591 million and 0.553 million respectively. Moreover, GSM connections declined in Mumbai by 0.045 million during the same month.
Source: COAI