At present, every 2nd Smartphone is being sold across the world is powered by Android. In January last  year, Android's head–Andy Rubin—stated that 500,000 Android devices were activated everyday, growing at 4.4% W/W. Indeed, Android device activation is increasing with dizzying pace. Yesterday, Android head "Andy Rubin" tweeted that the OS has reached to 900,000 devices activation per day.
On the other hand, 1 billion Android apps are being downloaded every month. Last year, an advent of Kindle Fire Tablet boosted an activation rate of the OS. Now, Samsung has reportedly stated a pre-orders of 9 million Galaxy SIII models since it was unveiled at London Event last month, undoubtedly, it will spur the Android activation rate.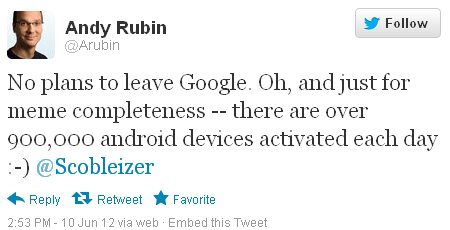 Until April last year, Android device activations per day was just 60,000, but it increased to 100,000 in May of the last year. By the end of 2010, Android device activations reached to 300,000 and it took seven months to poke 550,000 counts since December of 2010.
Proliferation of Android devices in emerging market are continuously augmenting day-over-day. A significant number of vendors around the world including HTC, Samsung, LG, Motorola and more have stimulated the growth of the OS. Till December last year, Android device activations reached to 700, 000 everyday and by February of this year, it touched to a milestone of 850,000 per day.

If we plot the graph, using available data it would be looked like the above graph. It's pretty clear from the above graph, by the end of July 2012, Android device activations could touch 1 million marks. There's an irregular growth in activation of Android devices in December due to Christmas holidays. Undoubtedly, the last holidays season was for Apple and iPhone 4S was center of attraction for users across the world. The device activations (both Android and iOS) reached to maximal level. Users, those wanted to buy new Smartphone, purchased their devices in the holidays and the devices launched between February and May of this year were not so impressive to clinch market share of existing high-end devices except "new iPad"—Apple sold over 3 million devices within three days of its launch.  That's why, an increment in the Android device activations per day between February and May of this year were low. However, there's a lineup of Android ICS powered devices are yet to be launched later this year.
After subtle investigation, you might find that there was no such any regular pattern in Android device activations since last six months. So, it's very tough to predict that when the OS powered devices activation per day will reach to 1 million figure, however, it might touch the mark by the end of July this year (it might take 2 weeks more than predicted time period ).
I have compared the activation of Android devices per day with iOS devices between July 2007 to January 2012. Till the end of last year, the iOS device activations per day were between 613,979 to 692,551, while Android activations were 700,000 per day.    Android devices activations are uniformly increasing month-over-month.
Recently, we have also discussed, Android market share will reach to its saturation  state by the end of this year. Apple has made its strong penetration in China, which has become second largest market for the company after US. However, the hold of Apple is very week in other emerging markets like India, where price of iOS devices are being considered as quite high.
On the contrary, Android has made a stronghold in emerging countries like India and Brazil. The reason is availability of the device at the nominal price. Previously, I have already mentioned that if Apple really wants to enhance its market share, then it will have to work hard in the emerging  markets. However, it's expected that Microsoft's Windows Phone/Windows mobile could manage to grab 19.2% of the total OS market share by 2016.
Image Credit: Unwired View, The Understatement, mangosquash