Mobile web traffic is continuously increasing worldwide and now, it accounts 10% of total web traffic.  Proliferation of mobile handsets across the world has forced online search giants to optimize their engines for mobile platform. However, online searching on mobile device is quite nascent compare to desktop searching.
Market Share Distribution Of Search Engines On Desktops
Among desktop search engines, Google is at the top with 82% of total market share, followed by Yahoo (global), Baidu, Bing and Ask with 7%, 6%, 4% and 1% respectively. Indeed, Microsoft's Bing is far behind in the race compare to Google search engine.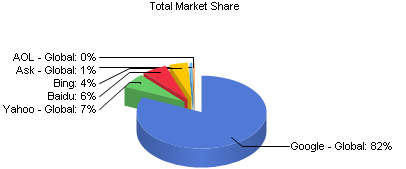 There might be a question, is there any potential rival who could beat Google search engine? Below, the market shares of top five search engines have provided. Google has uniformly dominated on other search engines since July of the last year. On the contrary, the performance of other search engines—including Yahoo, Baidu and Bing–are not so impressive that they could be seen as viable contender for the world leading search engine giant.


After subtle investigation, we might notice, market share of Google search engine has linearly been increasing since the last three months. However, we can easily see a brinkmanship  in Google market share between February and March of this year when Bing's market share mounted up. While market share of Yahoo has continuously been dropping in the last three months, from 6.79% in March to 6.57% in May of this year. Likewise, market share of Baidu and Bing search engine have also decreased in the desktop segment during the last two months period.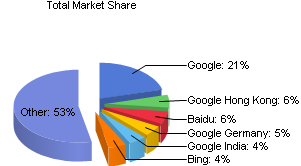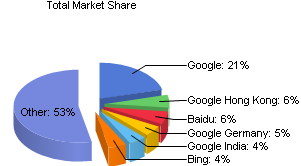 On desktop, Google (global) dominated 21% of the market share, while Google Hong Kong, Google Germany and Google India have 6%, 5% and 4% market share respectively—- account even more than the total market share of Microsoft's Bing.
Market Share Distributions Of Search Engines On Mobile Platform
In the Mobile segment, Google has even more stronghold than desktop, occupies 92% of total search engine market share, followed by Yahoo, Baidu, Bing and Ask with 5%, 1%, 1% and 1% respectively.
On Mobile/Tablet, the market share of Google search engine is continuously increasing since last three month. In February, the market share of Google search engine was 88.35% and it reached to 91.74% in May of this year. It's pretty clear from above graph, the market share of all search engines was almost uniform between July 2011 to May of this year.
The tales of all search engines are almost the same on both the platforms. On the mobile platform, Google (global) dominates 46% of all search engine market share, followed by Google U.K with 11%, Google Germany with 5%, Google Canada 3% and Yahoo with 3%. The presence of Bing on the mobile platform is just 1% against 92% of Google search engine.
The stats are clearly depicting that none of the Google contenders are even at the knee of the world leading search giant. Increasing demand of Android devices around the world has provided strenuous support to the search engine giant on the mobile platform, while other side, Microsoft's Windows Phone are still struggling to make its presence in the market.
Will Yahoo or Bing contend Google?
Here, I need not to explain whether Yahoo or Bing could contend Google or not. The reason is quite obvious, in desktop segment, Google alone holds 82% of the all search engines' market share, while its nearest contender "Yahoo" has just 7% of market share. Likewise, on the Mobile platform, Google grabs 92% market share of total search engines, whereas its nearest rival has just 5% market share. Google has succeeded to maintain the gap throughout the last year and this time, no such evidences have yet come to our notice that these rival could contend Google.
Image credit: NETMARKETSHARE