Finally, the wait of Samsung Galaxy S3 in India comes to and end. Today, company is going to launch the phone tagged with Rs 42,500. Though, Samsung started taking pre-bookings of the much hyped smartphone beast few days back in India but with official price tag, it seems to be an over-priced model of Samsung in Galaxy range.
Samsung Galaxy S3 Price In India Justifies The Cost ?
Why Samsung has decided to sell Galaxy S3 in India with such over-exhaustive cost ? The Quad Core Processor and 4.8 inch Super AMOLED screen are the main cost boosters. Undoubtedly, with such ultra performing processor Galaxy S3 truly out-class every competition but – as we already analyzed earlier – do we really need such over-powered processor in a mobile device where we can hardly have 10 -15 concurrent processes only ? Something, you must read and do self-analysis !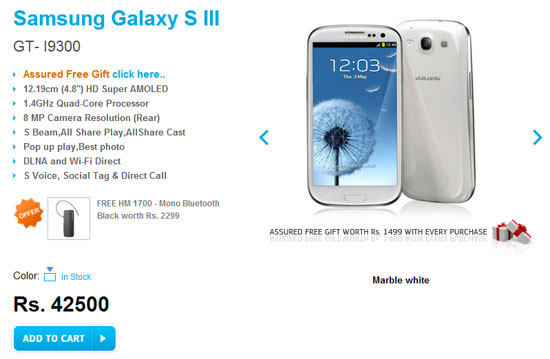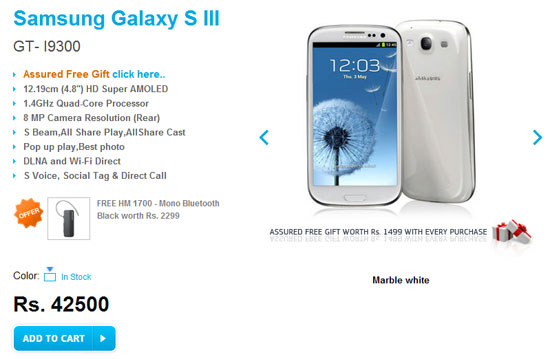 Competing With Its Own Family ?
In Indian scenario where price matters the most for majority of smartphone users and who always loo for great ROI, its would be interesting to see the rate of adoption of Samsung Galaxy S3 in India in next few months. Specially, when another beast Galaxy Note has penetrated the market in significant portion and carrying the price advantage over Samsung Galaxy S3 in India, it would tough-joint for the company to lure smartphone users.
Company is currently offering free bluetooth hand-free worth rs 2299 with Samsung Galaxy S3. You can buy the phone from Samsung eStore  which also offering another free assured gift worth Rs 1499
with all such development, one big question is still left unanswered: Why Samsung decided to launch Galaxy S3 in India but not Nexus ?
Update:
With in hours of the launch of Samsung Galaxy S3 in India, domestic e-commerce major Flikart has up the Galaxy S3 on sale with amazing discount offer making it to pocket for just Rs. 38,900/-. Truly, there is absolute no standard in Electronics Gadgets in industry !!!