It has been more than a year when the internet first witnessed the combination of XHTML 1.1 and HTML 4.1 in a form of HTML 5. Debuted in January 2011 by Opera Software, HTML 5 is carrying great potential of markup language and web programing. Though, it's still under development, browsers and devices across the world started integrating the technology in September last year. Consequently, design and development companies are looking towards HTML 5 to make the web experience more jubilant.
Besides inherited great features and design aspects, HTML 5 has also been designed keeping the explosive growth in smartphone and mobile infrastructure. The web properties designed and developed over HTML 5 can easily enjoy the robust presence over mobile in form of great looking and functional mobile sites. According to a report, released on 30 September, 34 out of world's top 100 websites are already using HTML5.
However, HTML5 alone is not equipped enough to create the charm over web. Cascade Style Sheet Version 3.0 (CSS 3) is also needed for seamless integration and adoption of HTML5.
Despite of so much potential, great features and functionality, majority of sites are still keeping themselves away from HTML 5 adoption. Non-supportiveness of browsers and mobile OSs are the main reason behind such disappointment.
Here we have tried to see some comparative analysis between desktop browsers, mobile OSs and platforms in terms of their support structure and features of HTML 5
HTML 5 Compatibility With Major Desktop Browsers
In desktop browser compatibility, Chrome version 18 leads the row. Chrome managed to score 400 out of 500 points with 13 bonus points. Though Mozilla Firefox 12 was not much behind, IE 9.0 has emerged as biggest disappointment. Despite of controlling the majority stake in browser market IE latest available version 9.0 could manage only 138 points and failed at many aspects of HTML 5 compatibility.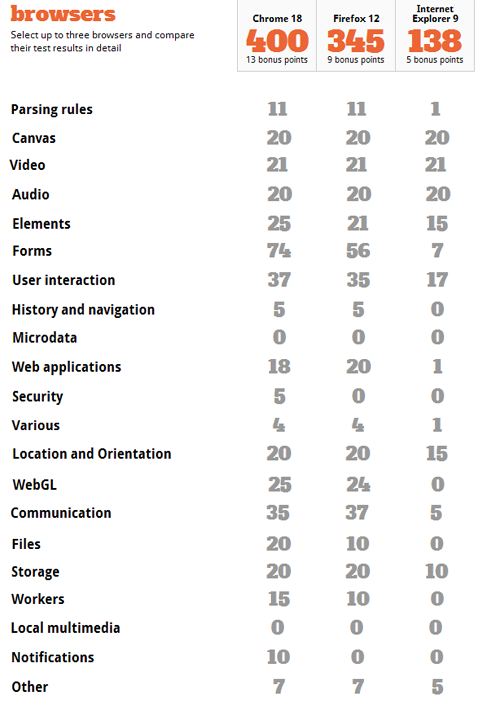 HTML 5 Compatibility With Tablet OSs
Surprisingly, in Mobile OS Blackberry OS 10 wins over other Tablets OS with highest score for HTML 5 compatibility. Android Tablets and iPad lags behind in HTML 5 compatibility due to non-supportiveness of various features and functionality.
HTML 5 Compatibility With Mobile OSs
However, Apple iPhone emerges as the most supportive mobile phone for HTML 5 websites as iOS gains the maximum points. Android 2.3 and Windows 7.5 lags much behind than Apple iOS
It's really surprising that even after 15 months of launch, HTML 5 is still lagging much behind than desired exposure and adoption by many browsers, Mobile and Tablet OSs. Specially, when mobile industry is witnessing explosive growth across the globe and people are leaning towards Smartphone than traditional handsets to becoming more demanding, the current situation is really quite disappointing.
so, if you are planing to develop or launch your business' mobile site on HTML 5, its time to do feasibility check for your targeted browsers and mobile devices' OSs. You can perform feature wise detail compatibility check from here.