Indeed, the demand of Smartphone is leapfrogging year-over-year, especially in the last year it was at the zenith. Now, number of reports related to the shipments of mobile handset and Smartphone are available in the market. It's pretty clear form these reports that Samsung has now become the world leading mobile device manufacturer, followed by Nokia. A research analysis firm "Gartner" has reportedly stated that 419.1 million  mobile handsets were shipped in the first quarter of this year, down 2% compare to the same quarter a year back.  The demand of mobile handsets has been declined in this quarter due to slowdown of the device demand from the Asia/Pacific region, especially in China in Q3 of this year.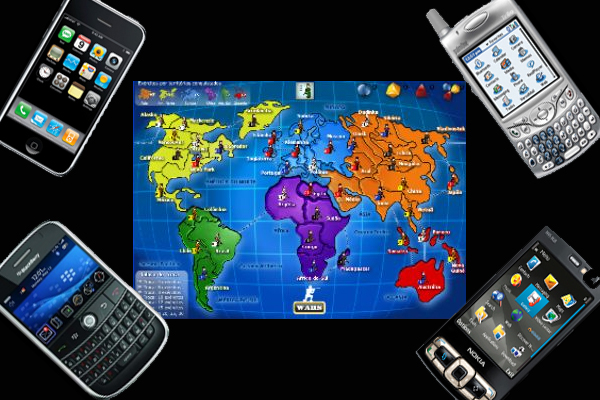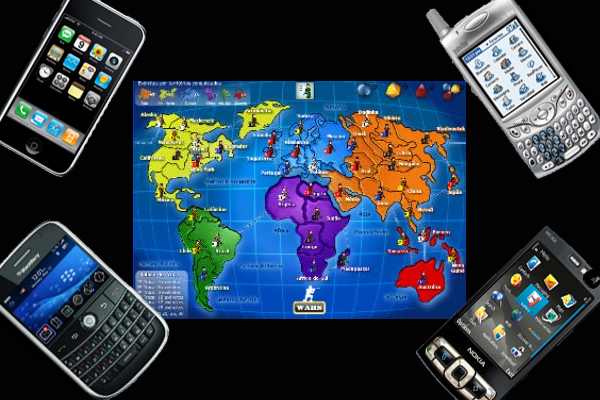 The firm has reported that Samsung shipped 86.6 million mobile handsets in Q1 of this year, 25.9% increase compare to the same quarter a year back. Samsung sold 38 million Smartphones in the Q1 of this year and snatched the world's No.1 position from Apple. Besides, Samsung was only Android Smartphone manufacturer clinched 40% of Android market share in the smartphone segment in the last quarter, no Android vendors could achieve even double digit level (10%).
Nokia shipped 83.2 million mobile handsets in the quarter, 22.7% decrease from the first quarter of 2011. According to the report,  144.4 million Smartphones were shipped in Q1 of this year, up 44.7% year-over-year.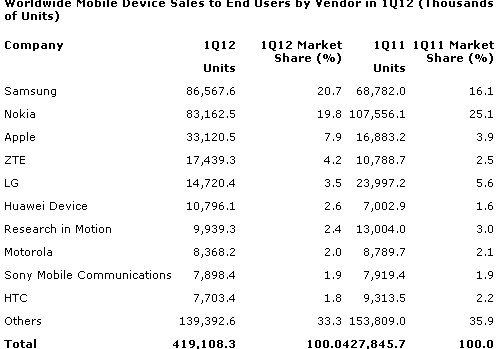 Apple's iPhone shipments grew by 96.2 % in the first quarter of 2012 compare to the same quarter of the prior year, due to strong success of iPhone 4S model and outstanding demand of iPhone device in China in the quarter, which has now second largest market for the company after the U.S. In addition to this, RIM sold 9.9 million mobile handsets in Q1 of 2012, decline 2.4% due to intense competition in the worldwide market.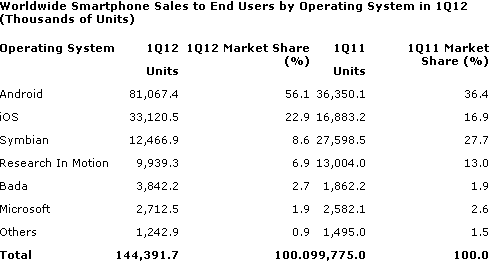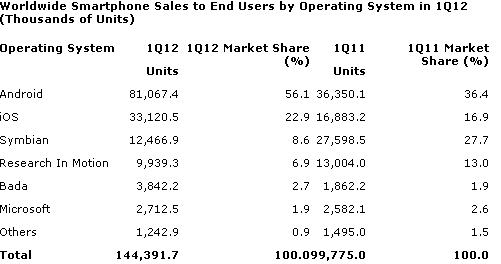 In terms of mobile OS market share, Android accounted for more than half of all Smartphone sales (56.1%) in the first quarter of 2012, followed by Apple, Symbian and RIM with 22.9%, 8.6% and 6.9% respectively.
Anyway, Nokia has lost its supremacy in mobile handset manufacturing due to its poor administration and marketing strategies. On the other side, Samsung has proven itself in both segments such as feature phone and Smartphone manufacturing in Q1 of this year.
Source: Gartner