This is big news, very big if you develop for the Facebook API, and yet one feels it was inevitable. Facebook has entered the app store arena to give their developers an awesome new platform to market their apps. They call it the App Center.
On the Facebook developer's blog Aaron Brady announced this news saying:
Today, we're announcing the App Center, a new place for people to find social apps. The App Center gives developers an additional way to grow their apps and creates opportunities for more types of apps to be successful.
Brady said that in the coming weeks people will be able to access the App Center on the web and in the iOS and Android Facebook apps. Facebook has over 900 million users and that's why this app center has the potential to be a huge success, I would say it has the potential to become as successful for developers as Facebook itself has been for them.
Like most other app stores the blog post describes app center as having an app detail page for each app, which helps people see what makes an app unique and lets them install it before going to an app. The company is also introducing a new app ratings metric in Insights to report how users rate the developer's apps over time.
Brady also highlighted an important point in that well-designed apps that people enjoy will be prominently displayed in the app center whereas apps that receive poor user ratings or don't meet the quality guidelines won't be listed.
We know that there is already a huge market for third party mobile apps for Facebook and the app center therefore looks to take benefit from and at the same time help grow these apps whether they are on iOS, Android or the mobile web.
From the mobile App Center, users can browse apps that are compatible with their device, and if a mobile app requires installation, they will be sent to download the app from the App Store or Google Play, Brady wrote.
Quite obviously in order to reap the benefits and grow their apps on the app center the developers would to required to use Facebook login for their apps. Facebook is encouraging developers to start preparing their apps today in order to get listed when the app center finally launches. Developers will be required to create an app details page in the App Center section of the Developer App. And priority will be given to those apps that submit before May 18th. So if you are a developer, you know exactly what you should be doing once you are done with your daily dose of tech insights from Dazeinfo.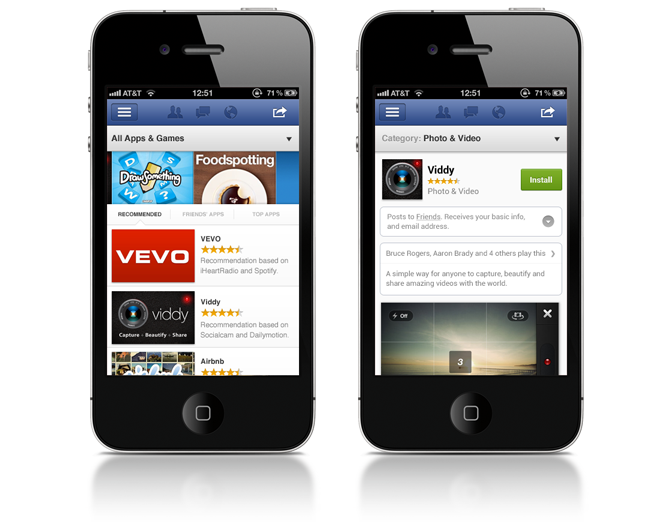 This app center further highlights Facebook's growing arsenal, from a start up social network to the most famous IPO in Silicon Valley history, Facebook's journey has been incredible. And it is only going to get better now.