Previously, we have discussed how mobile web traffic is growing year-over-year. A strong penetration of Smartphone worldwide has plunged the PC web traffic in the last couples of year. A recent report from Pingdom has revealed that mobile devices are currently accounting just 10% of all internet usage worldwide. The report has depicted that mobile web traffic in Asia has been tripled in just over two years and some countries of the continent are close to account half of all web traffic from mobile devices. However, an increase in the mobile-based surfing can also be seen in Europe and Africa.
At present, internet access through mobile devices account just 10.01% of total internet usage worldwide, up from 3.81% in 2010, due to an extensive demand of Smartphone and Tablets. It means that almost 90% of users are still using PC devices for internet access.
According to an IDC's recent report, Smartphone shipments grew by 42.5% in the last quarter ending March of this year compare to the same quarter of the prior year, expected to be shipped 144.9 million units in the quarter. It's astounding me a lot that 48.87% of internet usage in India are coming from mobile devices. However, Asia has become second largest market in mobile internet usages worldwide. In Europe, folks are more relying to access internet on their Smartphone and Tablets.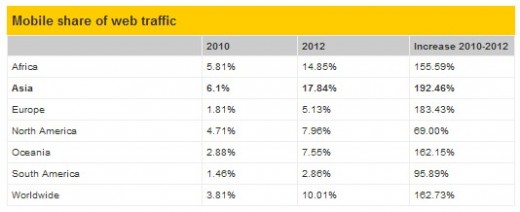 In emerging markets like India where internet access on the PC device is too expansive and really there is a need of reliable infrastructure. On the contrary, the market is flourished with mobile handsets at affordable price rate for folks in India, which create a more affordable option to access internet.
Smartphone penetration in the emerging market like India is quite low, where web-enabled feature phones are playing more significant role in internet accessing.