Users often use their mobile handsets for playing game worldwide. Now, the U.S. and European countries have become a big market for mobile game revenue generation. A market research firm "Newzoo" has recently studied the mobile gaming ecosystem in the U.S. and European countries such as Germany, France and the U.K. For study, the firm included 17,000 respondents (from involved countries) along with the monthly database of Android and iOS game revenue, and also gathered an information of downloaded data of 200 grossing games in these countries (involved in the survey) incorporation with "Distimo".  The firm has stated that mobile gamers in the U.S.  increased to 101 million in the March of this year compare to 75 million of the prior year. In the US, 69% of users were playing games on their Smartphone in Q1 ending March of this year, while 21% users were playing on their Tablet. The number of paying players grew 35% to 37 million year-over-year. In the U.S, mobile gaming accounted another year of double digit revenue growth. Mobile gaming revenue from iOS devices during the study period ending in March of this year was higher compare to Android devices in the involved countries. The market research firm has also reported that American player spent five times more on iOS devices compare to Android.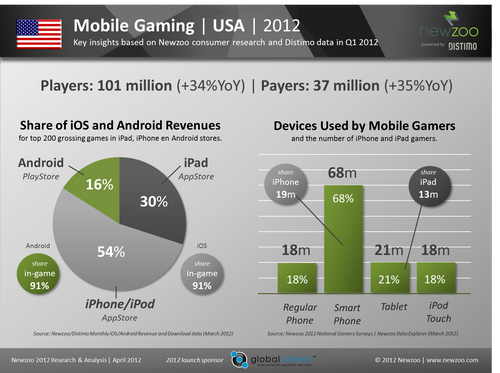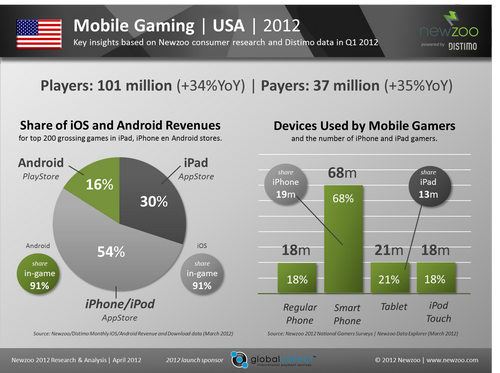 In the U.S, 19 million users were playing game on their iPhone in Q1 ending March of this year, accounted 28% of all Smartphone gamer across the country, while 19 million gamers played game on iPod Touch. In the Tablet gaming space, 12.7 million American played games on iPad, dominated 60% of total Tablet share during the study period.
As per the data retrieved from three stores combined (iPad, iPhone/iPod App Store and Google Play) of top 200 grossing games downloaded during the study period, iOS accounted 84% of revenue in March of this year.
In the U.S, the gaming on regular phones declined in Q1 of this year from a year back, only 19% users were using their devices for playing games, whereas, the figure was quite higher in France, where 34% users were still using feature/regular phone for playing mobile games. The firm studied that 69% and 75% users in the U.S. and U.K were respectively using their Smartphone for playing games. It's quite clear from the above stats that users in the U.S. and U.K. are substantially switching from feature phone to Smartphone. However, Android accounted 16% of total revenue in the U.S., while it was just 6% in the U.K, which was the lowest compare to all other countries involved in the study. Mobile game revenue from Android is somewhat higher in the U.S compare to the U.K. due to strong penetration of  Kindle Fire tablet, 17.4 million active Kindle Fire users in the U.S.
Source: Newzoo