Airtel has already launched its 4G services in Kolkata this year, which is an introduction of a new chapter of latest generation 'broadband services' in India. Interestingly, internet access on 4G broadband is three times faster than that of 3G. Despite this, Bharti Airtel is not pleased due to the comeback of "Mukesh Ambani" in the telecom business after 2005.
Mukesh changed the rule of the game of telecom sector in 2002, but quit from this sector in 2005, after delivering the empire to his younger brother, and made an agreement that he will never intervene to other's business. RIL bought Infotel Broadband– the only company to win 4G spectrum on a pan-India basis– last year after a day of the auction.
Presently, Bharti has 4G licenses only for four circles in India–Maharashtra, Delhi, Kolkata and Punjab–and it is endeavouring to add more numbers of circles through buyouts and tie-ups with others.
In June 2010, Reliance Manoj Modi told that RIL would invest RS 22, 000 crore in the broadband business in India. However, it's not big deal for the giant like Reliance, generated 'free cash flows' of RS 34,100 crore in 2010-11. On comparing with Bharti, Reliance revenue and net profits were about four times and three times respectively than the revenue and profit of Bharti in fiscal 2010-11. However, Bharti's EBIDTA margin dropped from 39% in March 2010 to 32% in December of 2011, depicting an erosion in Bharti's telecom business.
At present, Reliance is only the player in India with 4G spectrum at a pan-India level, the company will not need to seek for another player for making roaming agreements. Bharti is still seeking for anyone else in broadband space rather than Reliance in order to provide a better user experience.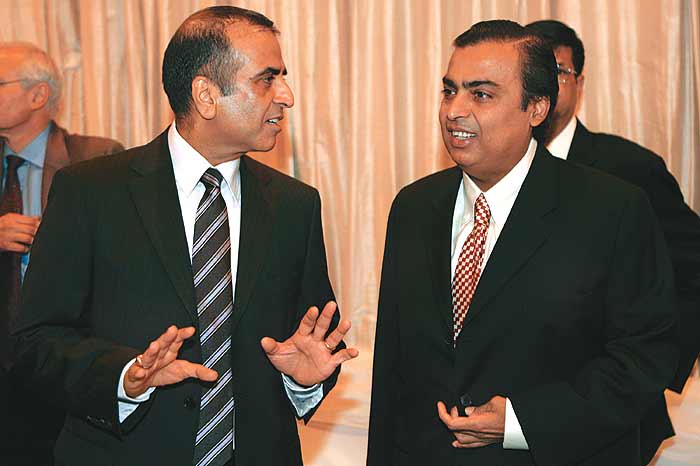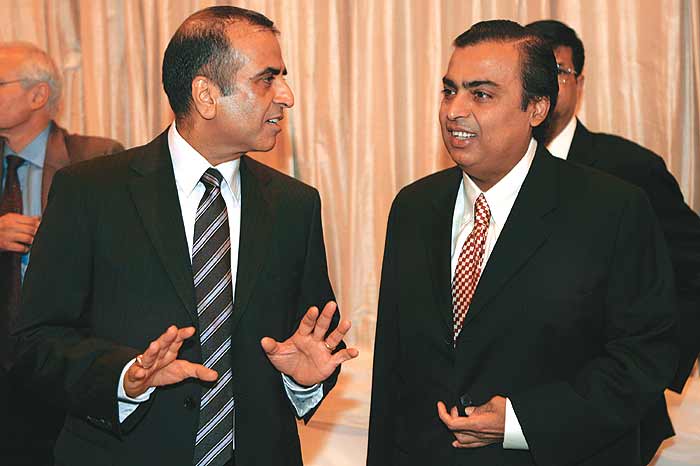 In order to contend rivals in 4G space, Bharti took its first step in February 2011. The company joined to a global grouping of seven other companies, those were involved in developing the 4G ecosystem on LTE technology. The endeavour of Airtel is somewhat similar to Reliance, the company was seeking for cheaper but sophisticated technology, opted CDMA and created an ecosystem around such technology.
You might remember Reliance "Monsoon Hungama", the company offered a handset for just Rs 501, on the contrary, the handset offered by Bharti was started from Rs6000. Besides, Reliance offered 40 paise per minute call to other reliance customer and free incoming calls, while, Bharti charged  RS 2 per minute for same. Mukesh is the person who is looking for the same technology (not mean CDMA) on 4G, so that, he can offer much more services at the nominal price. RIL has planned to offer 1 GB data downloads for just Rs 10, which is one-tenth of the current 3G service price.
However, it's not easy for Mukesh to enter the market, the condition has been changed from 2002 to 2012. In 10 years, Bharti has created an echelon in the consumers business and that's why it has become India's largest telecom vendor. Undoubtedly, in 2002, the game was confined to voice services only, but now, it has turned to more than that. The situation is demanding more fast data transmission and reception along with customers satisfactions.
In the last couple years, Bharti has streamlined its structure, earlier, it was divided into four business divisions such as mobile, DTH, fixed line broadband and enterprise, but now, it has been replaced to two business units–one for service corporate clients and other for service individual subscribers.
Bharti's CEO–Sanjay Kapoor–said, "We are now aligned to handle data. Bharti has also created new, independent divisions within data. We have unbundled the concept of value-added services into several independent divisions such as e-commerce, entertainment, m-health, m-advertising and m-banking, among others. We have hired the best of industry experts to head each of these sectors for data play."
Now, Bharti is considering Gopal Vittal's accompany as its strength. Prior to joining Bharti, Vittal was executive director of the home and personal care business of Hindustan Unilever and was ranked second-most powerful executive in the company, after CEO Nitin Paranjp.
We cannot ignore the participation of Metropolitan folks in 4G services in coming years.  Bharti has identified Delhi and Mumbai as top markets to bring more numbers of subscribers in the next five years.
In terms of high-speed broadband services on 3G or 4G, Mukesh is the only pan-India player. One side, Bharti is lacking in pan-India coverage for 4G services, while on another side, RIL is also seeking for voice spectrum—the upcoming telecom policy has proposed RS20 crore for the license of voice services. It's expected that Mukesh might tie-up with his Anil's Reliance Communications for voice services in India.
Bharti is currently one of the biggest players in India which is offering voice services on 2G and 3G. A number of rumours are speculating that RIL might delay its 4G launch till October of this year. The reason is quite obvious that the company is waiting for superior ecosystem such as availability of cheaper devices, larger numbers subscribers to adopt 4G services and voice standard.
In addition to Reliance and Bharti, there are some other players in the market. Tikona has acquired licences for 5 circles and expected to launch its 4G services in the second half of this year, while, Aircel (having a second highest number of 4G circles after Reliance) is also expected to launch its 4G services across the country later this year.
Anyway, neither Reliance nor Bharti Airtel is vulnerable in any aspect. One is lacking voice spectrum, while other is lacking in the broadband spectrum. Aircel is also a big fish in the battlefield. Undoubtedly, a great war of 4G services is going to be started in India soon.
Via: TOI