Is Google getting on Apple's nerves? So it seems. Apple's Senior Vice President Phil Schiller has lashed out against the very same company he was applauding just 4 months ago, it seems Facebook's acquisition of Instagram has not gone down too well with Apple Inc. and the reason it seems isn't just the fact that Facebook is the company that has acquired it. Mr Schiller has even dumped Instagram. Schiller's initial  response  for doing so was –
"It (Instagram) 'jumped the shark' when it went to Android"
But now as the dust settles and industry insiders take a closer look at what prompted Mr Schiller's outburst against the same Instagram that he seemingly was a fan of, just a few months ago, a few disturbing observations are being made. Before Facebook acquired Instagram, they were an iOS only app, with a user base of around 30 million iPhone users.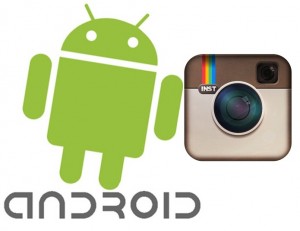 When Instagram decided to launch its Android version earlier this month, the timing was perfect. The news that a company run by less than 10 people had been acquired by the Social Networking giant for a staggering $1 billion contributed to Instagram's instant success on the Android platform. In the first six days, the Android app saw 5 million users sign-up.  So should we assume that this latest outburst by a top Apple executive is just an aberration, or just his personal opinion on an app he liked earlier and doesn't like anymore. Well that is what Mr Schiller would like everyone to believe, in an e-mail response to 9to5mac reader Clayton Braasch, the Apple SVP clarified his position, here's the screenshot from Braasch's e-mail verified by 9to5mac: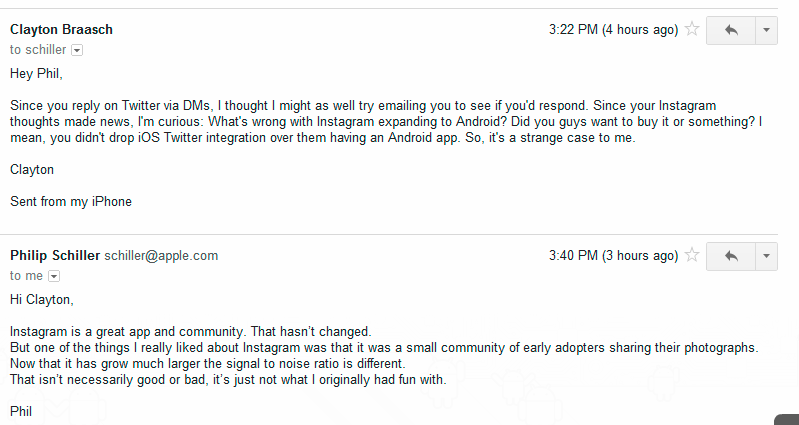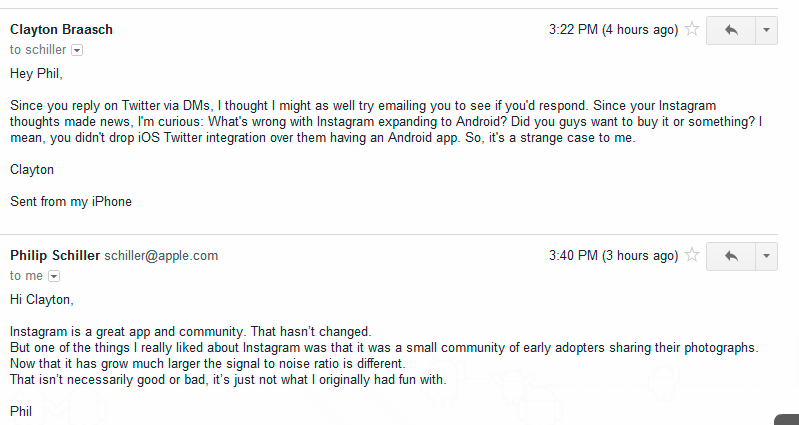 If you have followed the press on Apple's late CEO, the visionary Steve Jobs' opinions about Google's Android OS, you would understand where Mr Schiller's opinion about Instagram "jumping the shark" is coming from. Steve Jobs had a very clear opinion about  Android, and he let the world know. In Walter Isaacson's biography of Jobs, Mr. Jobs says and I quote –
We did not enter the search business, they (Google) entered the phone business. Make no mistake. They want to kill the iPhone. We won't let them.
He commented about declaring a "thermo-nuclear war" on Android, stating that –
Our lawsuit is saying, 'Google, you f_____g ripped off the iPhone, wholesale ripped us off.' Grand theft. I will spend my last dying breath if I need to, and I will spend every penny of Apple's $40 billion in the bank, to right this wrong. I'm going to destroy Android, because it's a stolen product. I'm willing to go to thermonuclear war on this. They are scared to death, because they know they are guilty. Outside of Search, Google's products — Android, Google Docs — are shit.
What prompted Jobs to say this was the fact that he felt that Google's leadership "personally betrayed" him by stealing concepts like the app screen and multitouch. Google's former CEO Eric Schmidt had inside information on the iPhone, since he sat on Apple's board of directors till 2009, while co-founder and current CEO Larry Page looked to Jobs for mentorship.
Anybody who was alive in mid-90s would tell you that this looks very similar to the Apple versus Microsoft debate of that era. Steve Jobs had often accused Microsoft of Windows "theft", saying that their Windows OS was a rip-off from the GUI used by Apple. In his last days Jobs had developed similar feelings for the Android OS, believing that it was clearly inspired from iOS. But did Mr Jobs really had a valid point? we would never know the answer to that, because Android isn't Google's product, they didn't make it, somebody else did, and they simply acquired the company who made it, Android Inc. in 2005, two years before the iPhone launch.
Come to think of it, Mr Schiller's outburst seems directly proportional to his late great CEO's vision – Destroy Android. It is pretty clear now that anything, and anyone that supports Android is anti-Apple. Instagram was an awesome app until it was an Apple-only-app. Now it isn't quite the same great thing, because they went to the rival camp – the Android camp. And going further Google's acquisition of Motorola Mobility has only added insult to injury for Apple, because now with Motorola in their camp Google can actually use their Android OS on their own hardware. All this makes me ponder over a couple of pressing questions –
Is Apple becoming restless with the Android OS?
Do they really believe that someone (in this case Google) stole a concept from them and then engaged in a direct competition with them?
There is nothing wrong in rallying around  and taking a stand against your competition, in business you have to. But for a company who is a world leader in delivering cutting edge technology products, and whose products are by far the market leaders in their respective areas of service, and whose stock value is heaven bound, what do such statements as those of Mr Schiller's suggest to the world? In one word they suggest – War. A war started by their late visionary king, and which will now be continued by his successors, it will be interesting to see Apple CEO Tim Cook's version of the story. But for now, it is his top management that's doing all the talking on Android. According to Isaacson's biography, Jobs further went on to bash Google's famous motto. "I want to go back to that other question first and say one more thing," he said. "This 'Don't be evil' mantra, it's bullshit."
As for Google, they now have an Operating System (Which Jobs claimed is a stolen concept), which they didn't build, only inherited from a company they acquired along with the  hardware credentials (read Motorola) to run this OS on, which again isn't their baby, it's another acquisition. For a company that claims to be among the most innovative, there isn't much innovation on view at the moment. Hope Mr Larry Page is listening.