As the world shifted from 20th to the 21st century, just a year ahead, Microsoft launched its Windows XP version in 2001 worldwide. Really, that was the time for traditional PC devices, but thereafter, trend moved to laptop, and now, it's proceeding to "ultrabook" and so on. The company has celebrated the ten years completion anniversary of its Windows XP.  The company also launched its Office 2003, two year after the launch of Windows XP in 2001. Undoubtedly, these two products entombed the flag of its successes across the world. Now, the company has finally decided to end the support of these versions of Windows and Office by 2014. We have still two years to migrate from Windows XP and Office 2003 version to windows 7 and Office 2010 respectively.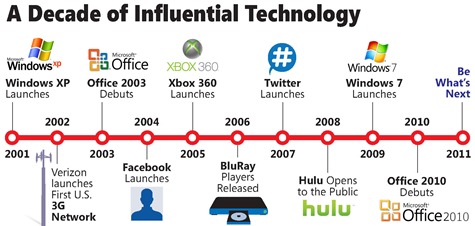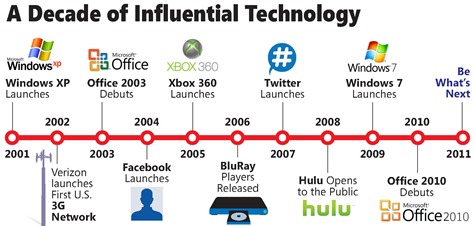 Indeed, Windows XP and Office were outstanding software release from Microsoft at that time but, the technology environment has been now shifted. There are lots of expectations of users from these software across the world. Tech-savvy need the software which will suit their personal work-style, while businesses demand to the software which will protect data, ensure security and compliance. According to a recent report, Windows XP OS is not secured. If you are security conscious, then you need to move out from this environment to some more secured environment. However, the report has also supported to Windows 7 for the security concern—which is more secured than Windows XP version.
I have two persuasive reasons to migrate from Windows XP and Office 2003 to Windows 7 and Office 2010. First, the company is officially going to end the support of these versions by 2014, and second, it's not secured for businesses or even for professionals. Therefore, it's the urgency for the company to deploy Windows 7 or Office 2010 before run out of the support. However, we can see the affirmative responses across the world; over 525 million Windows 7 licenses have been sold since its release. Windows 7 and Office 2010 will definitely be effective for businesses as well professionals.
How to get the updates?
The springboard Series on TechNet will help you to deploy the updates, besides; you can also visit to Microsoft Deployment Kit (MDT), and Microsoft Desktop Optimization Pack (MDOP). In addition to these, you can also make the move to Office 365 to get Microsoft Collaboration and Productivity tools.
Microsoft has also decided to launch its revolutionary Windows 8 OS this year. Likewise, Apple has also promulgated to launch Mac OSX "Mountain Lion" for its PC users. Undoubtedly, the technologies are changing day-over-day, and it's really the time for users to shift from Windows XP version and Office 2003.