If there is one thing that is consistent with the social network LinkedIn, it is the site's look and feel – A consistent design, an easy to make out layout and a format that finds appeal with the professional lot. But every once in a while now, LinkedIn seems to be slowly but surely following the path traded by its larger than Social life compatriots – Facebook. LinkedIn has now given a much needed update to it People "You May Know" (PYMK) feature.
With this update LinkedIn promises to provide a more streamlined user experience that makes it even easier to find and connect with people in your network. LinkedIn's Senior product manager, search and Social graph, Brad Mauney announced this update on The LinkedIn official blog.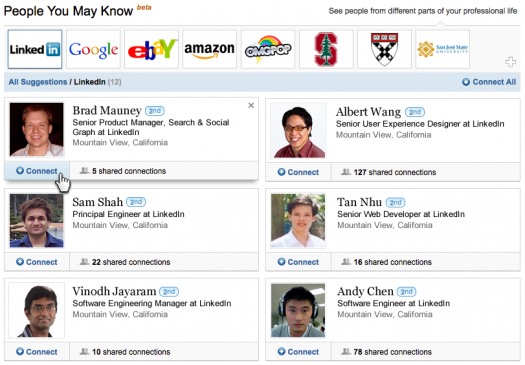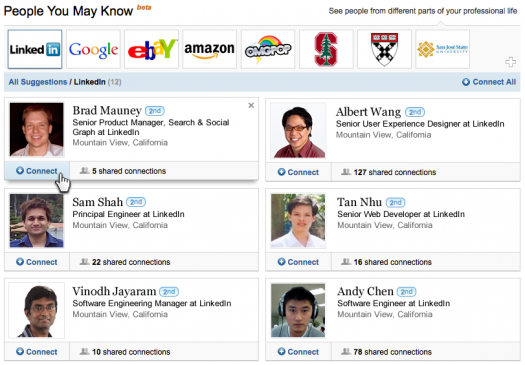 With this update it is clear that LinkedIn does not want to be left behind in the mad race for powerful and appealing features that are being churned out to users on various social networks. LinkedIn's PYMK feature has always been a helpful tool for user's to find new and useful connections but now with an improved interface and an even better algorithm that traces and populates these connections for the users, LinkedIn clearly aims to stay alive in the Social Network's –  "update unless you want to become the next MySpace" race.
We've also improved the accuracy and relevance of your recommendations. Behind the scenes, our algorithm identifies people you may want to connect with based on factors like your existing network, past workplaces, and where you've gone to school.  With these changes, you'll see more relevant results as you scroll down the page. – Brad Mauney.
 Apart from improving the chances of users finding better connections, the site now aims at providing an enhanced search facility. Users can now view their results through relevant associations like company or school, all they now have to do is click on a logo to refine their results.
Here's hoping that the most uncluttered and simple to use social network for professionals doesn't end up being all cluttered with promotional ads and irrelevant third party app requests being forced onto its unassuming users.
LinkedIn will be rolling out this newer version of PYMK over the next few weeks, but if you are the type that wants to get their hands dirty first up, then let us help you. Here's the link to try out this new feature before it is available to everyone else on the site.