Barns & Noble introduced its Tablet "Nook" in Q3 last year, and however, succeeded to grab a meager portion of market. But, its market share had declined after advent of  low-price Amazon's Kindle Fire in the market in Q4 last year. Recently, Barnes & Noble declared to lower down the price of its Nook Tablet from $279 to $199. This time,  the company seems bullish towards its Nook's market expansion. And that's why, the company sponsored a Nook developers event and panel discussion on the state of Tablet market yesterday. The bookseller is currently planning to launch the Tablet outside the US. Several apps maker were assembled at the company's event "Mobile Monday London", they suggested, the company would have to do a lot prior to launch the device in the market in order to have credible entry outside the US. In a packed room, the directors of the company interacted apps developers (a lot of Android developers) for basic development of apps for the Nook Tablet.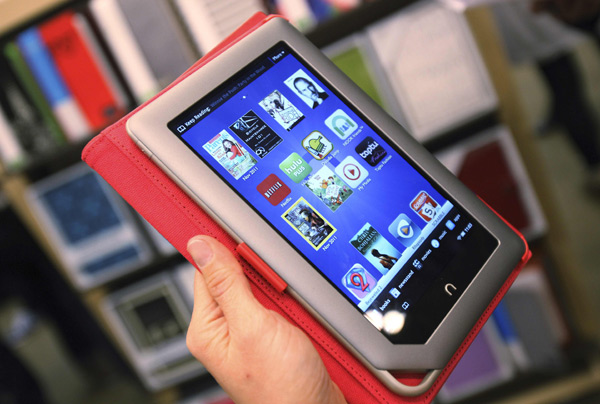 According to the company's present market strategy, for purchasing Barns & Noble apps, consumers need to have US credit card. However, developers do not need any US bank account or credit card in order to get paid. They could be paid by check in US dollars. The company has not yet given any information when it would release the Tablet in non-US market, but undoubtedly, it would be sold through the Barns & Noble Store.
The company's retail store is the instrumental part of the company's marketing in the US, could be said as 'limitation of the company' too. Recent rumors have stated that the company is going to be partnered with UK-based bookseller "Waterstones"–might be helpful for the company to lure folks in UK.
Do you really think that the company is occupied with lack of functionality? Basic reasons are quite obvious that the company has still no in-app payments and in-app advertising available for apps, which are being provided by the company on  its Nook Tablet. In addition to this, the company has just thousand numbers of apps. If you have less numbers of apps, definitely, less numbers of folks will be attracted. At present, Apple App Store possesses more than 550,000 apps and over 25 billion apps have been downloaded.
A recent report has revealed that over 70% of buyers of Nook Tablet were women aged between 25 and 45. Barns & Noble's director of developers relation–Claudia Romanini–said, "We are very focused on families and children. We know what Julie would like to buy and how to approach her."
Barns & Noble's Nook accounts 3.5 % of all tablet shipment in Q4 last year, while Apple's iPad succeeded to clinch 54.7% of the market share and Amazon's Kindle Fire was at the second notch with 16.8% market share in same period. Anyway, the company is currently working on its vulnerable points and we might expect that it would enter into non-US market with galloping pace.