Smartphone has become one of the most important gadget at the present. Users often prefer Shopping, researching products of their need, comparing prices of the same products but from the different manufactures, finding retails locations, and redeeming coupons through Smartphone. Beside users, retailers are also more interested to respond customers/clients with their mobile retail apps and websites–they are more focusing on designing part of the websites and apps in order to attract more Smartphone shoppers. A recent report from Nielsen has suggested that mobile retail websites are more popular than mobile retail apps among Smartphone shoppers. The research analysis firm has also stated that Amazon was most popular retail mobile website among all in December 2011.
For subtle investigation, the research analysis firm monitored 5000 US Smartphpone volunteers participating in research work. After studying, the firm reported that in 2011 holiday season, the mobile retail apps and websites from Amazon, Best Buy, eBay, Target and Walmart were the top , managed to reach 60% of Smartphone owners.
President of Strategic Initiatives at Nielsen—John Burbank—said, "The majority of smartphone owners used their devices for shopping this past holiday season. Mobile shopping has reached scale and is only going to grow as smartphone penetration continues to rise. Retailers need to think of their business as a multi-channel environment that can potentially include mobile, online, and bricks and mortar stores. Winning with shoppers requires a consistent experience across channels that reinforces the values you represent as a retail brand, whether it be price, service, reviews, selection, style, or other key attributes. "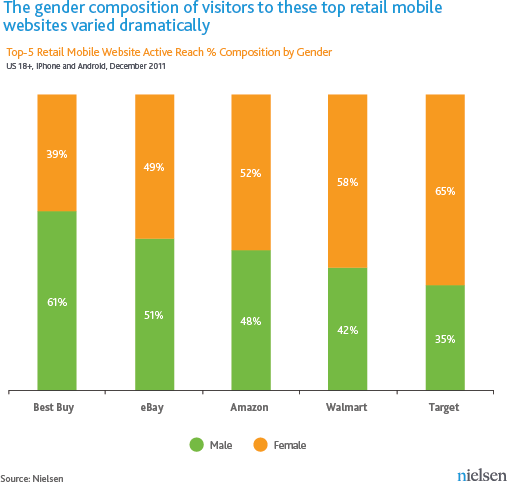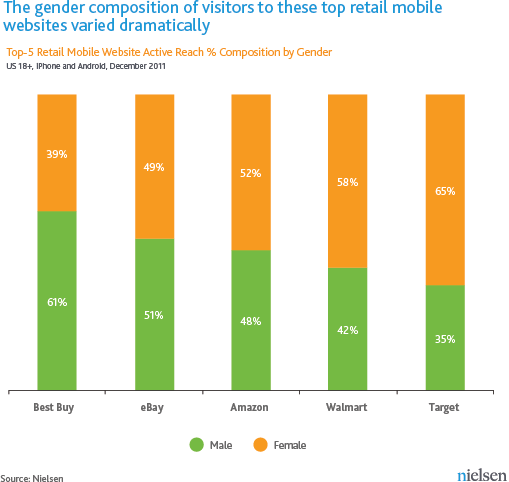 The study reveals that both genders more likely to prefer retail website compare to web apps, however, it has been seen that men have more inclination towards mobile retail apps compare to women. In addition to this, consumers who use retailers' mobile apps are more likely to spend their most of time on the apps. When it comes to the mobile websites, Best buy was more preferred among men while Target and Walmart were more popular among female. However, eBay appears to have same impression among both men and women during the research stint.
The demand of all top 5 mobile websites during Black Friday last year bumped. Amazon emerged as the biggest player in the battle field. I think, as the demand of mobile retail website is augmenting day-by-day, definitely, it would create more room for other investors.
source: Nielsen