Despite of excessive growth, Apple's iOS and Google's Android based devices are still not stagnating and continuing its dominance day-over-day. Weak mobile operating systems appear to be getting weaker-and-weaker, and stronger are going to be more stronger-and-stronger day-over-day. Android and iOS has once outpaced other mobile OS with greater margin even in mobile Smartphone traffic in US. A mobile ads network and leader of mobile target advertising—Jumptap—has revealed that Android and iOS combined grabbed up 91% of all Smartphone traffic on its US mobile ad network in January this year. Apple grew enough in terms of number of users in last holiday season—the company sold 37 million Smartphones in Q4 (calendar) last year due to outburst sale of iPhone 4S.
In term of Tablet traffic in US, Amazon's Kindle Fire alone accounted 33% of all Tablet Traffic on the network. The total number of iPad shipment in Q4 last year was 15.4 million, while Kindle Fire managed to ship 3.8 million in same quarter—which is more than four-folds smaller than iPad's shipment. Apple is going to sell its 100th million iPad this year, despite of this, Kindle Fire succeeded to account 33% of total Tablet traffic network in January this year.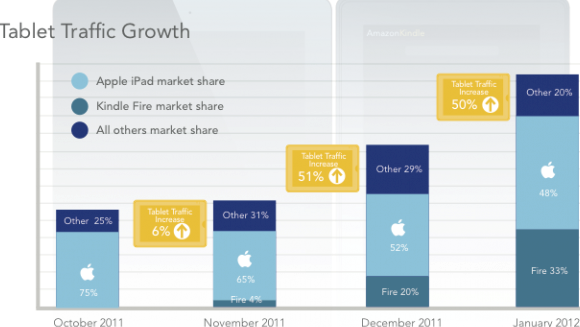 According to report, out of 95 million monthly ad network users across US, Apple and Google dominated over 32.2% and 58.8% ads networks respectively. Blackberry's market penetration was just 6.7%, while Symbian and Microsoft had negligible Smartphone traffic impression of 1.4% and 0.5% respectively. However, Windows Phone succeeded to hold such share due to Nokia's new line up " Lumia".
Amazon has proven itself as a strong competitor after the appreciation of large market share in just three months. However, Apple's share was at its lowest level in last four months at 48% in January this year. However, Android has weak hold in the Tablet segment still and Kindle Fire was the only Android-powered Tablet viable to contend Apple's iPad last year. Thanks to Amazon's Kindle (e-Books) and its more integrated services that managed to lure a large number of folks in Q4 last year.