Facebook seems to be going behind 'best-of-breeds' features available with many other online networks and sites. Today, it has introduced "Interest List" – a feature which will work quite similar to Twitter's List. Though, the new Interest List feature doesn't hold much value for general users but it's quite useful for people who specifically follow trends, interests, subject or topic. This feature will add much more value for Journalist who can now personalize their News & Feed section by curating from various sources based upon the beat they follow.
With the new "List" feature, users can create a list and subscribe to related people, pages or groups for that List. This way all updates from connected sources will be shown under News & Feed section specifically designed for that list. This will help users to differentiate their interest and information.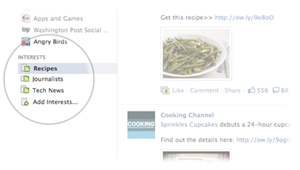 Indeed, this was much needed feature as Facebook users are growing in numbers with each passing day. In fact brands and organizations are also using Facebook as platform for various important announcements and releases. On an average, each user is connected with minimum 136 other people and seeing everyone's update on consolidated News & Feed section was much troublesome. Also, chances were higher to miss an important update from any of my connect, too.
With the new "List" feature, Facebook users – especially Journalists, analysts and industry pundits – can segregate their interest and manage the sources in 'shelf manner'.
However, the new feature would also have significant impact on general use of default News & Feed Section. Chances are high that many users – having specific focus – may start ignoring the default 'News & Feed' section which will in turn dent their engagement ratio with all their connects or brands. The focus shift will happen and many small brands and pages are surely going to face the 'ignorance' heat from users. Whatever it may be, it would be interesting to see how the new feature will create an impact on smaller and startup brands' Facebook presence.