India introduced Mobile Portability Number (MNB) across the country in January last year. However, in Haryana it was implemented somewhat earlier than other part of the country.  Indian Telecom regulator TRAI has reportedly revealed that 32.78 million mobile subscribers submitted mobile number porting request during the month of January this year. The number of porting requests in January this year has augmented by 12.13% compare to December 2011, which was 29.24 million. The chart (below) is demonstrating how many requests for 'number porting' in December last year and January this year were recorded state wise.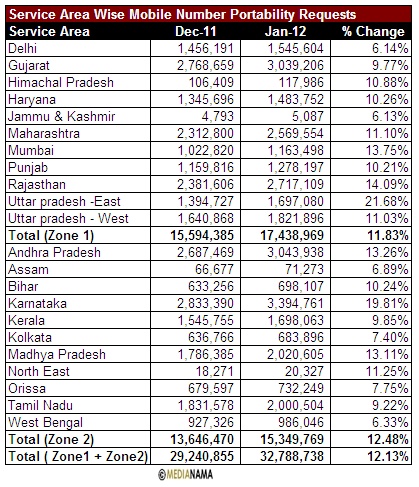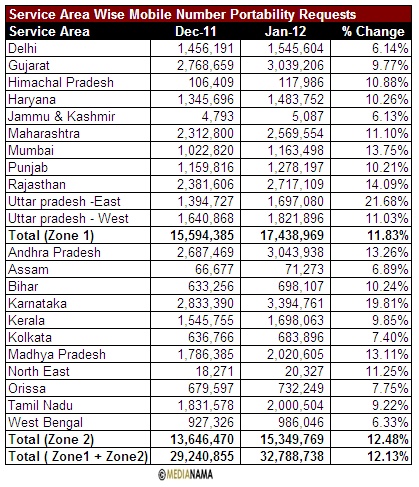 The number of MPN request which has been provided is just before the Indian Supreme Court's decision. After hearing of 2G scam litigation, the Supreme Court announced its verdict, cancelling of 122 licenses.  The company, which have been debarred by Supreme court to further services including Uninor, MTS, Etisalat, STel, Loop Telecom. However, some carrier operators got incumbent such as Idea Cellular and Tata Teleservices. Definitely, Supreme Court's decision might upshot negative to some carrier operators.
MPN requests has been divided into two Zone; Zone-I comprises North and West India, while, Zone-II includes South and East India. In Zone-I, Gujarat dominated with 30.98 lakhs requests followed by Haryana with 14.83 lakhs 'number porting' requests in January this year, albeit, Jammu & Kashmir had lowest number of requests. However, Jammu & Kashmir was expected to have lowest due to lowest mobile subscribers.
Considering Zone-II, Karnataka led with 33.94 lakhs followed by Andhra Pradesh with 30.43 lakhs of requests for 'number porting' in January this year. Contrarily, just 20,327 requests were entertained by subscribers in North East circle.
The interesting factor to consider here is the penetration of number portability is much higher in developed states like Karnataka, Andhra Pradesh and Gujraat where number of telecom operators are expected to operate with much developed infrastructure support and services. Be it offline support outlets or online customer care, operators in these circle are aware about users expectations and intense dependencies over mobile phone. Despite of all, mobile users apparently much more demanding against their payout and equally unsatisfied.
The numbers of requests for MNP were higher in Zone-I compare to Zone-II, however, in Zone-II, numbers of requests were increased in January this year than December last year. Anyway, the mobile portability number requests are increasing day-by-day and expected to sustain the same swiftness.
Image credit: MEDIANAMA