Apple's iPad was – and still – is the undisputed champion in the Tablet market and with the iPad's new baby to be released on the 7th of March this year, it might take the company's sales to a whole new level considering the anticipation it has created in the users hearts. According to a new report from "Gartner", Apple's iPad is expected to rule the portable PC market atleast until 2014, acquiring more than 50% of the market share.
"We expect Apple to maintain a market share lead throughout our forecast period by commanding more than 50 percent of the market until 2014," Carolina Milanesi, research vice president at Gartner.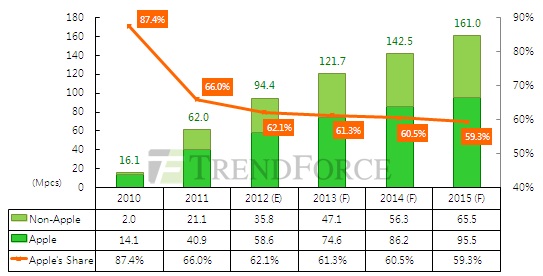 Credit:[TrendForce]
Though in the above graph the Apple's iPad is observed to have leading the market year-on-year with sales increasing every year, the fact that Apple is losing the grip over the market with many competitive Tablets from varied manufacturers entering the market every day still holds true. Users dissatisfaction with the iPad, its instability compared to the Android OS and its high price tag might be few of the reasons behind it losing the market but the entry of new devices like Kindle Fire, Samsungs new Galaxy Tab 2 and the new Windows 8 Tablet prove to be the major reason behind Apple losing its foothold in the coming years.
iPad acquires 66% of the Tablet market in 2011 and is expected to fall down to 62.1% this year and is speculated to fall down to 59.3% in 2015. If no corrections are made by the company based on its price tag or a much stable OS the company's sales might suffer even more.
With Amazon's Kindle Fire-"Apple's Toughest competitor in 2011's holiday season", planning to upgrade its device this year and has decided to keep a low price to attract the masses, Apple might as well gear up for the same. But I would expect the Apple consumers to be loyal to the company and with the much anticipated release iPad 3 and iPhone 5 being just around the corner the company is far from falling behind. And with Apple's innovative and futuristic track record over the years, I would expect the company to go no other direction other than up in the coming years.