Google is going to launch Head Up Display (HUD) glasses. Think about the climax when you need to search for some important article while you are walking around the crowded theater. Take out the mobile handset from the pocket, poke on its keyboard for "specific word" and wait for some time to read the article. This is going to be outdated in upcoming months because Google's is going to bring its eye wearing glass later this year. A pair of such glass will flash the information right when it comes into your site– just like the movie "The Terminator".
Google is trying to releases a pair of glass—will have built-in computer screen—by the end of this year. The company is going to blend Android software into "heads up display". The glasses will have camera and eye-movement technology, and also, expecting to have $250 cost—so that users could easily afford.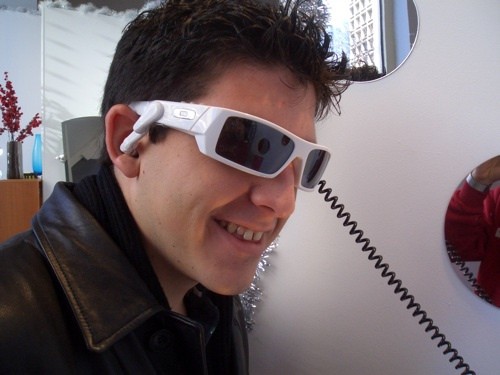 The glasses will also have 3G or 4G connectivity, and also have sensors such as motion sensors and GPS. Using the glasses, you could do all things that you do with your Smartphone like phone calls, web browsing, and more. Folks, those who have not yet purchase Smartphone they would not need to purchase the device after owning HUD glasses. The glass would have front face camera to collect the information around you.
The glasses are reportedly being developed by a more advanced and sophisticated Google X laboratory. The lab is recently working on the lots of things which are beyond of our expectation. In this lab, here engineers and scientist are working over such types of crazy project. Recently, I have reportedly said that Google was working on its voice recognition app "Majel" at same lab in order to contend Apple's "Siri". The lab has been kept secret even its some employees don't know what's really going on there.
You might astonish, if Google is experimenting over such unrealistic things then why I don't like to have such a pair of glasses. I have rigorous reason to say, the glasses will obsessed you. The glass will gather the information with your head movements. Suppose you need to scroll the web page on the glass screen, then, you will have to nod your head every time for scrolling up and down.
If you wear off the glasses from your eyes, and moving with the same fashion on the street—just obsess with the glass and nodding your head up-down and left-right. Have you think, what other will tell you? Definitely, they will call you a muddle head. Then, why should I purchase such device which will make me crazy or out of mind.
If you are not precautious after wearing the glasses and moving on the rushed street, have you imagine what would happen with you? The Google's HUD glasses might take the life out what should be a conscious walk on such streets.  That's why, I am saying, "I Am Not A Dumbo To Have Android On My Eyes".