Indeed, Facebook is on its way to reach 1 billion users base by the end of this year. But, Twitter is also stepping forward to reach the much awaited milestone of half-a-billion registered user base by today mid-night (IST) or by Wednesday noon (U.S. Time).
Interestingly, in mid of January it was predicted that Twitter user base will touch the milestone of 500 million users base by the end of February. But after the announcement of Apple to bake Twitter products in its devices through OS X Lion and the launch of Twitter new design, count of new users are adding up pretty fast.
Currently, near about 12.7 new users are registering on Twitter per second and around 902,600 users have registered with Twitter in last 24 hours. Adding further, overall Twitter users base has reached 499,809,610 registered users till now. And if it continues to grow further in similar fashion, it will reach 500 million users base within 5 hours from now.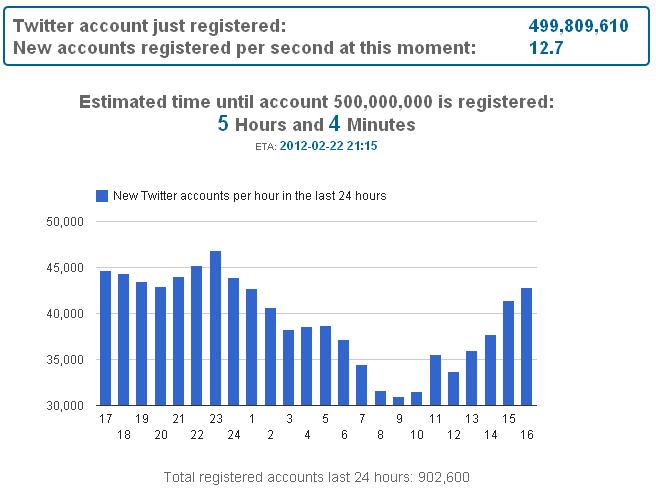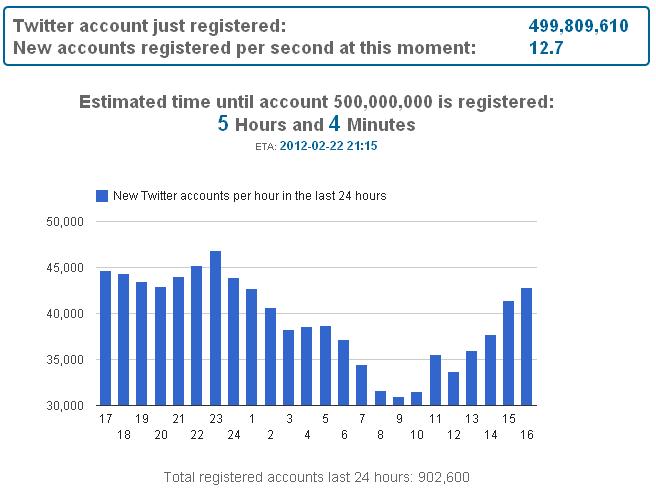 As these numbers are not directly coming from Twitter itself, so it's not official yet. It's bit surprising that Twitter had officially revealed the numbers only twice since its inception. It was April 2011, when Twitter's Vice President first officially revealed the data of Twitter, reaching 200 million registered and second it was September 2011 when Twitter reached 100 million monthly active users. However, just opposite to such claims, Twopcharts estimated Twitter's user base as 300 million in May, 2011.
Twopcharts has been continuously monitoring Twitter from the day of its inception and has been continuously taking the close look at the Twitter user base each minute. They use the data from the Twitter itself to calculate the number of registered account on the Microblogging site.
People will be surprised to know that the number of new users added on Twitter per second is higher than that of number of new users added on Facebook per second in any 24 hours of duration.
If Twitter continues to grow in similar manner than it may reach 1 billion user base by the end of 2013 backed by the predicted explosive sales of Apple iPad.