For every company their brand value in the market matters the most as it helps them in shaping their business in much appreciated way. Companies brand value mainly depends on popularity, receptiveness, interaction, network reach and trust. Taking the view of all these perspective a study was conducted which reveals the Global Top 50 brand leaders.
Interestingly, Google has surpassed Apple to become one of the most trustworthy brand all across the world. Even, Disney has overtaken Apple to become the second most trustworthy brands globally.
After the segregation, Google has emerged as the most popular, interactive as well as the most reachable brand globally, while Disney is the most trusted brand.


You may be surprised to know that in Top 50 list of brand leaders globally, there are only 12 companies related to IT industry compare to 1 Media and 2 Restaurants companies. Despite of that Media tops the list in "Sector list" followed by Restaurants and then technology. It's mainly due to the consistent performance of Disney in all five dimensions – popularity, receptiveness, interaction, network reach and trust.
Surprisingly, none of the top three brands are in the top 5 list of receptiveness. This means that none of the top 3 brands are willing to listen and engage with their worldwide followers or fans every efficiently. This directly points out that these three brands are either arrogance or over-confident.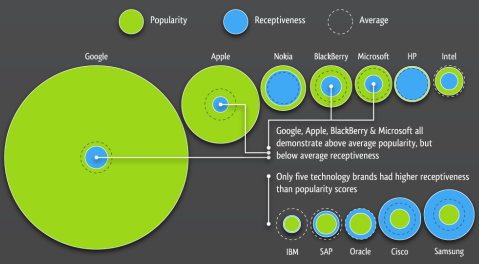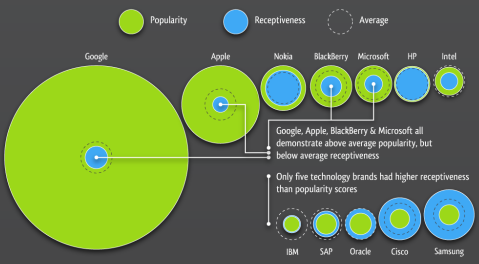 However, five technologies companies, which are not even in the top 25 list of the most valued brands globally, listen and engage more with their customers. Also, only two companies, Pepsi and Johnson and Johnson – which are placed in top 20 brands list – are in the top 5 list of receptiveness (willing to listen and engage with their customers).


In terms of engagement rate on social networking sites as well as on web Google dominates other brands to fetch top place on Web, Twitter and YouTube, while Disney secured top place in the list of Facebook brand pages with maximum followers.
Major reason behind Google success is its products and services which are giving tough competition to their rivals in their respective sector. Currently, Google's Android is challenging Apple's iOS in mobile sector, while its video service YouTube is standing strong against HULU. Meanwhile, its social media arm Google+ is slowly improving its market share only to counter Facebook in social media space.
(Image Credit:- Sociagility via Cool Infographic)