At present, Smartphone has become most preferred electronics gadget among all age group. Everyone wants to own the device, that's why, demand of Smartphone is tremendously increasing day-by-day worldwide. The perception about the device apparently varies according to age and income. Recently, a research analysis firm—Nielsen—has attempted to identify the traits of users according to age and income basis in US. Nielsen investigated more than 20,000 mobile consumers in US in January this year for its research. The firm has reportedly stated that the Smartphone penetration in the country reached to an optimum level in January this year to 48%.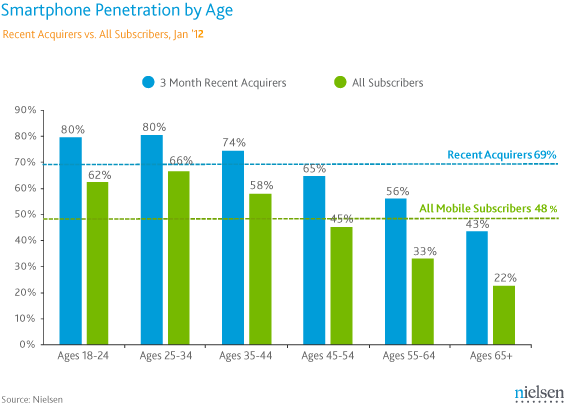 Nielsen has also stated the penetration of Smartphone in the 24-34 age group showed the greatest than others, with 66% claimed having Smartphone. Out of 10, those that had gotten a new mobile handset in last three months, 8 preferred to have a Smartphone. Besides this, the research firm has also revealed that among all the age groups those who bought a new phone in the same duration, "more than half of those under 65" bought Smartphone.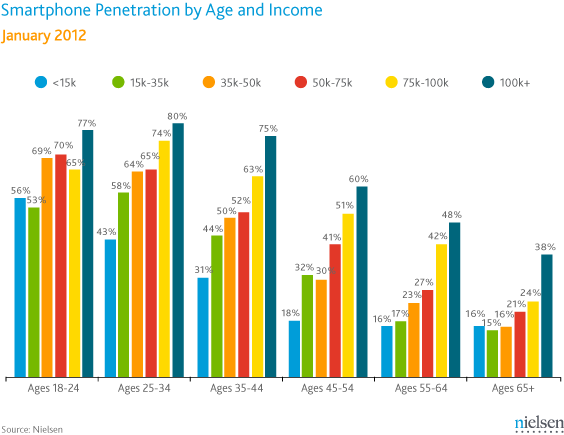 The age group was not only the factor to determine the Smartphone ownership, in addition to this, income also played a crucial role to own specific device. The higher age group having good income will prefer to own Smartphone.
Nielsen Said, "When age and income are both taken into account, older subscribers with higher incomes are more likely to have a Smartphone. For example, those 55-64 making over $100,000 a year are almost as likely to have a Smartphone as those in the 35-44 age bracket making $35,000 to $75,000 per year."
Sequences of Smartphone lineups are available at different price with different features for different users. Folks with good economy are more likely to own Smartphone with distinct features, rather than how much it costs. The craze of Smartphone also continues in more developing countries like India, China, Brazil, and more. The incursion of cheap Android-based devices in the market has lured huge folks to buy the device. As the demand of Smartphone has incredibly surged in the last three months, has given a benignant cue to mobile industry.
source: nielsen