In order to increase users' security Facebook is going to launch a new features know as Verified accounts and Pseudonyms. First users need to verify their account on Facebook and later they can use pseudonyms to change their names instead of their real birth name or name on their Facebook page.
Interestingly, those users – whose accounts are verified – will get higher up position in Facebook "People to Subscribe To" suggestion.
However, this doesn't mean that user's nickname will not be shown. In fact, user's birth name will be shown on the about page. Instead this process is a way to make sure that people should not subscribe to the public updates of charlatans.
Eventually, from tomorrow onwards users who are having many numbers of subscribers will be notified with the new options.
Going further users need to submit an image of government issued photo ID which will be deleted after the process of verification. Also, Facebook will provide an alternate name – which will be displayed next to their real name on their page- option to users which can be used to find them through search.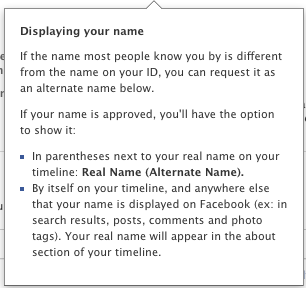 Users can use some famous names like Justin Bieber so that they can be frequently being searched on Facebook.
Indeed this is a good move by Facebook, but it will create the bundle of problems for users as they will get confused amongst name. Apparently, this option of Facebook will also lead to increase in vulgarism on the pages as users may start misusing the name of the actors and may start posting vulgar comments and unwanted pics.
I feel Facebook should re-look over the advantages/disadvantages before implementing such features for all users as it may lead to increase in violence as well as vulgarity. Besides, those users who don't have any government attested pics/identity will be unable to use this feature.
Facebook must look into the fact that maximum users are youth under the age group of 18; for whom having government approval photos and photo identity is quite difficult.
Undoubtedly, Facebook's initiative to launch this option is quite debatable and surprising.
(Source:- Techcrunch)