There's  a lineup of Apple's products in the market, and undoubtedly, none of these products are  vulnerable than each others. Apple has been selling its Mac line of products since last 28 years—one of the transcendent products of Apple. The company now manufactures number of products' lineup including iPod, iPhone, iPad, and more. Apple's iPhone had broken all the records in the last holiday season—iPhone 4S was the most preferred handset. The demand of iOS devices has enormously been surged since last couples of years, and iOS-based devices have been proliferated worldwide. Yesterday, a research analysis firm reported that the company sold more iOS devices in last year compare to all Mac devices sold in 28 years. The firm has provided a chart (below) which demonstrates how iOS devices are dominating over Mac devices in number of sales.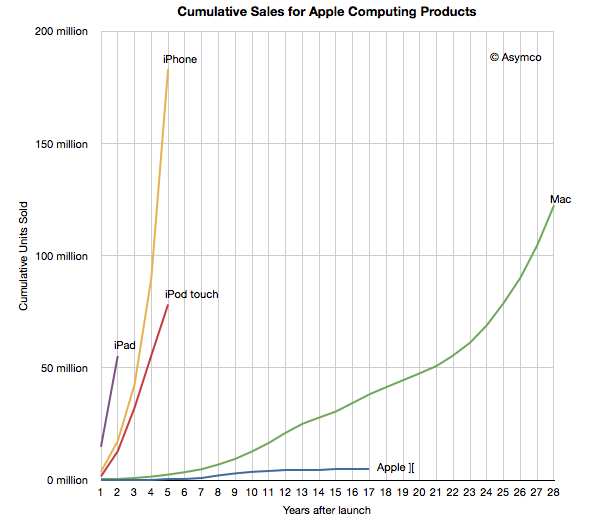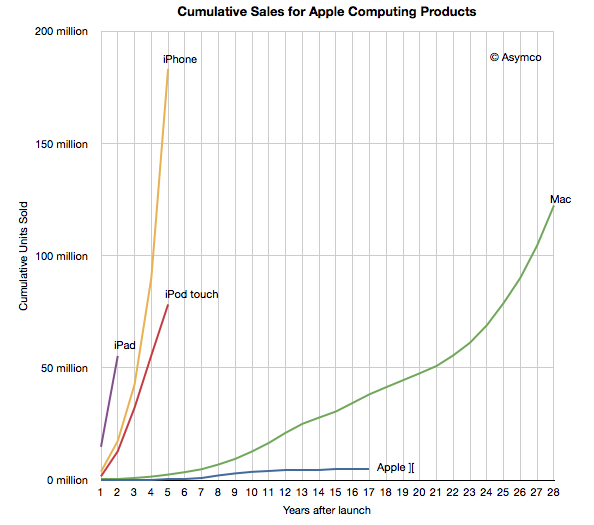 CEO of Apple—Tim Cook—said, "This 55 is something no one would have guessed. Including us. To put it in context, it took us 22 years to sell 55 million Macs. It took us about 5 years to sell 22 million iPods, and it took us about 3 years to sell that many iPhones. And so, this thing is, as you said, it's on a trajectory that's off the charts."
Apple has sold 140 million Macs running some form of OX-based devices in the market worldwide in 28 years. The company sold 22 million of iPods in consecutive five years since it was induced in the market, and also, 55 million iPads were collectively sold by the company to the date. The company has sold around 175 million iPhones to date–and 37 million iPhones were sold by the company in Q4 last year alone. Collectively numbers of iOS devices sold till at the end of last year,  reached to 316 million units—while Mac collectively sold only 122 million devices to the date.
A clear discrepancy can easily be seen between Mac line of devices and iOS-based hardware available worldwide. The company has always been lashed out by folks for its Mac devices lineups due to its "overprice" or "too expensiveness". However, the demands of the Mac lines devices are very high among specific users compare to other laptops and desktops hardware produce by different manufacturers.
On the other side, iOS devices are ultraportable, extra-ordinary in the features, and beside these, it's cheaper. However, the demands of traditional PC and laptops are gradually decreasing, and users more prefer to own Smartphones and Tablets. Lineups of Ultrabooks are available in the market to give the intense competition to Mac line devices.
Image courtesy: Asymco
via: ZDNet