From the day of launch Amazons' Junglee.com has started scathing the market of Flipkart.com in India. Amazon launched Junglee.com on 2nd February and within one week its Alexa 'Reach Percentage" ( Changes by +7000%) as well as "Traffic Rank" (Change by +143,226) has surged up drastically. Meanwhile Flipkart.com has registered decline in its daily reach (Change by -11% ) as well as traffic rank (Change by -84), especially from the day of Junglee existence.
Though, the ranking of Junglee came down as the way it went up soon. Probably, it was all the effect of gangrenous launch of Junglee which helped it to got ranked among top online players in India. But, in any of the case, current ranking, traffic and pageviews of Junglee are really astounding, considering the days of existence.
However, earlier entrants in Indian eCommerce market were unable to affect the market of Flipkart.com. But, Junglee.com has partially affected the online market of Flipkart.com in just a week. And, with many upper hands, junglee.com is expected to keep challenging Flipkart in future too.
When I tried to search the reason behind such slumped down in reach and traffic percentage of Flipkart.com, I noticed that despite of being just a few days old online existence, Junglee.com has managed to crack better deals with product vendors compare to Flipkart. Also, the number of products available in each segment with Junglee is comparatively higher than Flipkart.
The price difference scenario is not just with one product, they are in numbers. One will be surprised to know that the price offered by Junglee.com on higher range of products is quite inferior to the prices compare to Flipkart. Also, Junglee has got hold over Apple's product, while Flipkart might be still working on it to introduce in coming months.
Indeed, Amazon is a global brand and one of the leading online shopping companies in the world. To complete in Indian market company needs to adopt the shopping habits and pulse of e-shoppers who primarily focus on the cost before anything else.
Besides, Amazon has also got its own products for mobile Industry. Its globally acclaimed Kindle Fire Tablet and its own App Store will surely provide much needed extra edge to the company. In India, where Tablet market is just booming up, the presence of cost effective Kindle Fire will surely be an added advantage for Amazon's junglee.com.
A wide range and variety of apps, available on Amazon's own App Store is another advantage to draw people's attention especially when mobile industry in India going through major transformation. Therefore, it's easy for the company to 'adjust' the price tag of its Tablet devices as well as apps according the geo location.
Flipkart Advantages
Apparently, from first primafacy scenario, It will be tough chore for Flipkart to maintain its lead position in Indian market in the presence of Amazons' Junglee.com. But, Flipkart too has got many advantages that can help it to compete with Junglee – only if company leverages upon them intelligently.
Since 2007, Flipkart has garnered a goof sense of Indian economic in e-business model. The customer satisfaction ratio is quite higher compare to any other online shopping portal of same size. Company has checked the pulse of indian consumers many times in last 5 years and tweaked its operations to get fit in best format. For a country like India, where offline infrastructure is not matured enough, commutation of products and services in timely manners has always been a killing factor for many companies. Flipkart has got its own delivery network in 27 cities ( Tier 1 and Tier 2) to overcome such challenge that resulted in higher confidence among shopping towards Flipkart. For any new intrant, like Amazon (Junglee.com) having such extensive self-network will surely be a daunting task in any speculated time duration.
For Amazon, the major chunk of revenue comes from online book sales in US but scenario is quite different in India. People are still not that fascinated towards reading habits and Amazon need to pick this thing up soon. While doing a sharp analysis on Amazon's junglee.com, we found that company is still trying to expose more book titles than gadgets or any other products. While Flipkart has got this balanced and offer range of electronic gadgets catering to all sort of needs and all type of consumers. Out of major 11 catagories on Flipkart, 7 belong to different purpose gadgets and electronic/electric gadgets.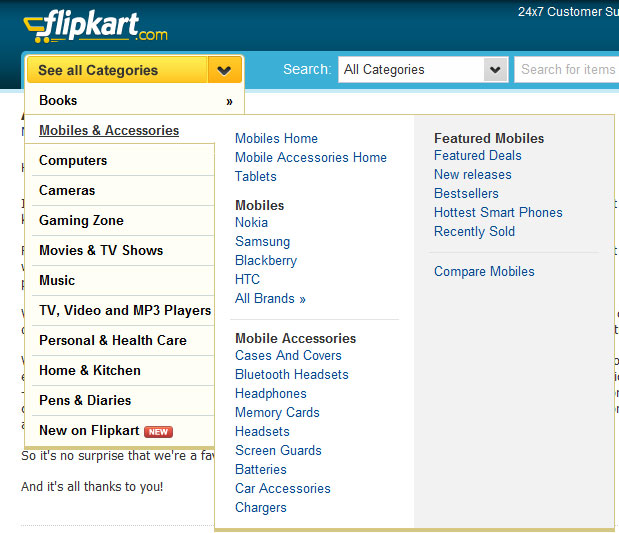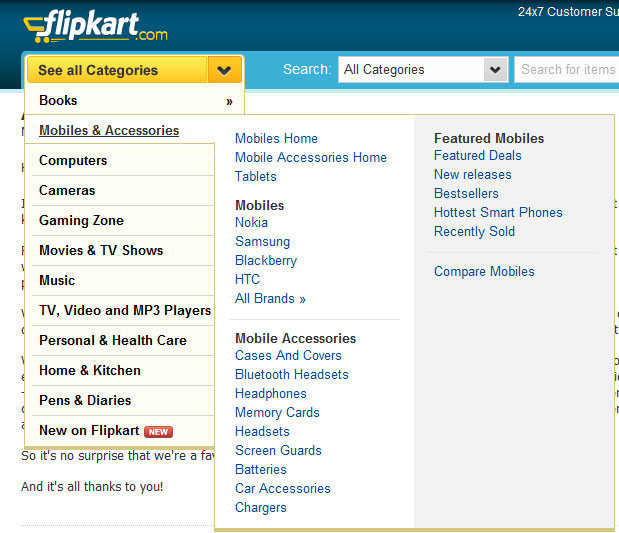 What's Flipkart Holding Wrong
Think about the scenario; you want to make some money. You make your efforts, mail to thousands of people, make your own website and manages to sell a highly priced device tagged with Rs. 30,000. How much do you expect to make out of that sale – atleast Rs 600 to justify all your efforts and hard work !
Apparently, Flipkart has got stuck under conservative mind set here. For most of electronic gadgets, Flipkart is offering just 1% to its affiliates. Even, considering all type of products, the highest commission offered is only 4% – only for those which come under low price category, between Rs 500 – 2500. Undoubtedly, this fails to charm many Indian affiliate marketers who are turning towards Amazon which is offering anything between 1% – 15%.
Being in the affiliate industry, I can say that most of bloggers/website owners – whose revenue model has got proportionate contribution from affiliate commission – are preferring Amazon over and above than Flipkart.
(Rank Source:- Alexa.com)