The online shopping in the last year was all time high—estimated to reach $35.3 billion. A research analysis firm had tracked online consumers in interval Nov 1 to Dec 25 of 2011, which was 15% higher than same period in 2010.   Last week, Amazon announced its Q4 results, the company has reportedly generated revenue $17.4 billion— 35% higher than $12.95 billion in the same quarter a year ago. However, the company's revenue has fallen below Wall Street's estimation ($18.26 billion). A research analysis firm—ComScore—has reported that US retail spending reached to $49.6 billion in Q4 of 2011—increased by 14% from same quarter a year ago.  The firm also revealed that the entire US retail e-commerce spending reached to $161.5 billion in last year, up by 13% from 2010. The growth showed nine consecutive quarters positive augment year-over-year and also five consecutive double digit growth rates.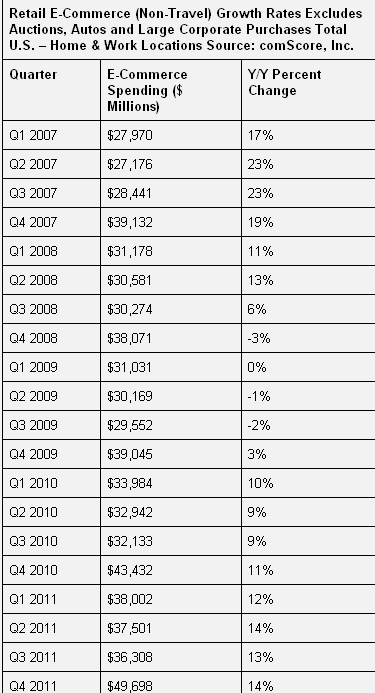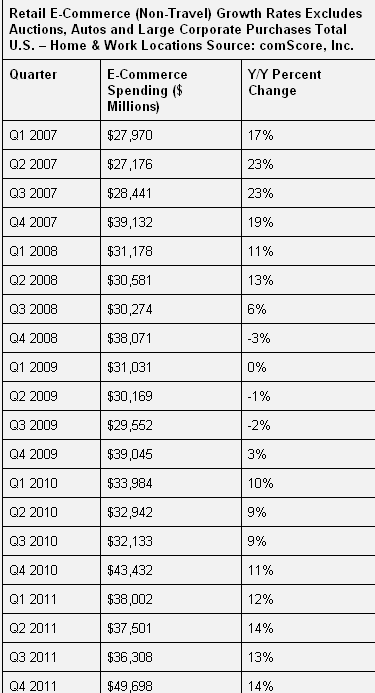 The chairman of ComScore—Gian Fulgoni—said, "The fourth quarter of 2011 capped off what was yet another strong year for online retail, one in which every quarter achieved double digit increases versus the prior year. In the face of continuing uncertainty regarding the US economy, consumers increasingly went online for their shopping needs. Price and convenience continue to be the critical value drives for e-commerce, and unless those conditions change we can expect to see more channels shifting to online in 2012 and perhaps even acceleration in the current growth rate."
Digital contents & subscriptions, Jewelry & watches, consumer electronics, toys and hobbies, and computer software were the top-performing online products last year—at least 18% growth was seen to each category than 2010. The magic figure of $1 billion was being surpassed by ten days in Q4 last year including Cyber Monday ($1.251 billion), Dec 5 ($1.178 billion), and Green Monday ($1.133 billion).
Smartphone and Tablets played a vital role in online shopping last year– consumer increasingly using smartphone for getting information of price and products' features. A previous study had estimated, mobile commerce sales would reach $6.7 billion by the end of 2011—which was 91.4% higher than 2010. The study also explained that the total mobile commerce sales would attain the figure of $11.5 billion by the end of this year.