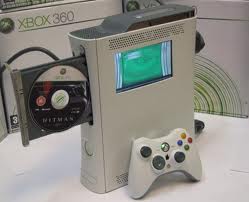 Microsoft must be celebrating the outstanding success of their XBox 360 gaming console in the industry. Microsoft XBox 360 last year performance has been astounding and has become the best-selling game console of 2011. The stats of XBox 360 are really impressive as Microsoft sold 14.9 million units of XBox 360 in 2011 whereas Sony Playstation 3 reached the mark of 14.1 million units only and the Nintendo was able to sell only 10.33 million units of  its Wii game console. The Sony Playstation 3 performed well between the second and third quarters of 2011, almost 6.5 units of the PS3 console were sold at the end of 2011 which may be because of the enigmatic performance of the Uncharted 3 game title released exclusively for PS3 at the end of 2011.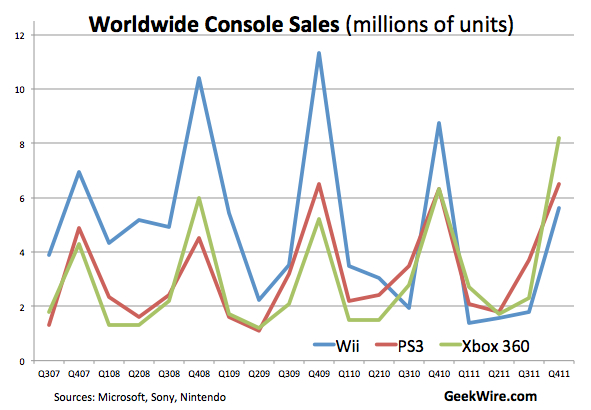 Though Microsoft XBox 360 had been the best-selling game console for last year but the Nintendo Wii still holds the amazing record for the seventh generation consoles with almost 95 million units sold worldwide since its been launched by Nintendo, while the Microsoft Xbox 360 and Sony PlayStation 3 are far behind as 66 million and 62 million units of them were sold respectively. The innovative Kinect controller has proven itself to be a major X-factor for Microsoft XBox 360 success as Kinect technology gained worldwide popularity in no time because of its innovative gameplay. The regular updates from Microsoft also improved the sales of the XBox 360 gaming console for sure.
Microsoft XBox 360 belongs to the seventh generation of gaming consoles and is the second console under the  flagship of Microsoft. Its powered with 3.2 GHz PowerPC Tri-Core Xenon processor,512 MB of GDDR3 RAM overclocked at 700 MHz and 500 MHz ATI Xenos Graphics processing Unit. The given specification is responsible for the amazingly high-detailed graphics and visual effects of the game titles released for XBox 360. Game titles like Halo 3,Fable 2, Gears of War etc has already proven their worth among the hardcore gamers because of their graphics,sound and gameplay. Approximately 14.5 million units of Halo 3 were sold due to which it holds the record of best-selling game title for XBox 360 gaming platform. Presently, the Microsoft XBox 360 S version is only under production whereas other models of it are discontinued. There are already some rumors floating all around about the upcoming XBox 720 game console from Microsoft but lets see when we'll here about it officially from Microsoft.
httpv://www.youtube.com/watch?v=wUAPla4SiI8