With a new print ad campaign titled "Putting People First", Microsoft is hoping to capitalize on the backlash against Google's privacy changes by using the controversy to entice users to its portfolio of internet services. Google is in the process of making some 'unpopular changes' to many of its most popular products. Those changes, cloaked in making it easier for Google to connect the dots between everything you search, send, say while using one of its services.
Microsoft says it plans to run a series of newspaper adverts this week, taking advantage of concerns over Google's updated privacy policy while advertising its own alternatives. The adverts will run in major US newspapers like the Wall Street Journal, the New York Times, and USA Today, and will highlight the recent changes in Google's privacy policy. Google introduced a simpler universal privacy policy last month, but some customers were left confused and concerned by some of the changes.
Microsoft isn't pulling any punches with the adverts:"The way they're doing it is making it harder for you to maintain control of your personal information. Why are they so interested in doing this that they would risk this kind of backlash? One logical reason: Every data point they collect and connect to you increases how valuable you are to an advertiser."
On January 24, Google announced via blog post that, on March 1, it will introduce a new mandatory privacy policy that will merge all policies that currently exist across 60 of the company's numerous web products/services. This also means that the company will consolidate user data attached to these products. Google claimed to be making these changes in order to create one cohesive privacy policy from more than 70 that are currently in use. While a few had to be left out for 'legal and other reasons' the search giant said that the new policy will allow users to enjoy a "simpler, more intuitive Google experience."
Microsoft says the changes make it harder for "people to stay in control of their own information," and the company is voicing its own "concerns" through full-page newspaper articles – seen below – while advertising its own services like Hotmail, Bing, Office 365 and Internet Explorer.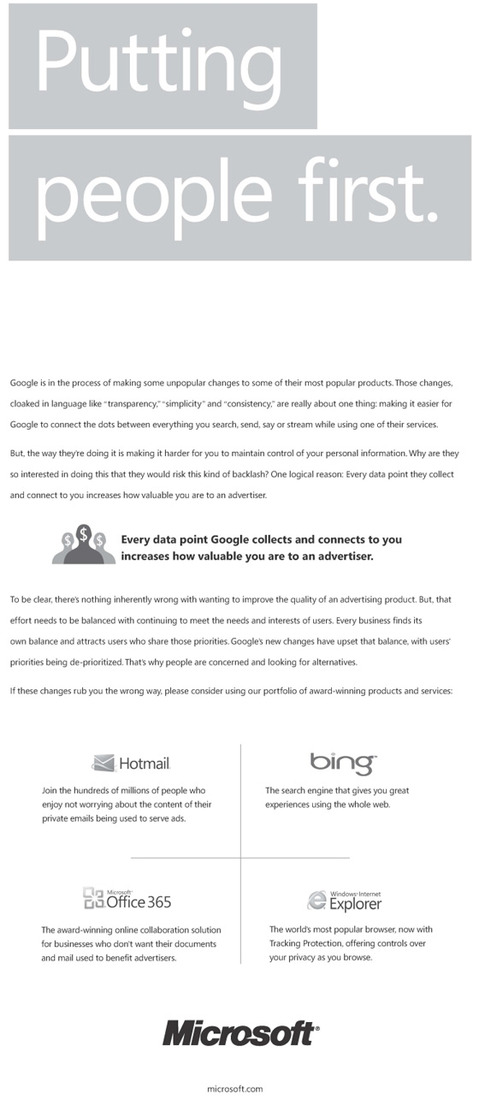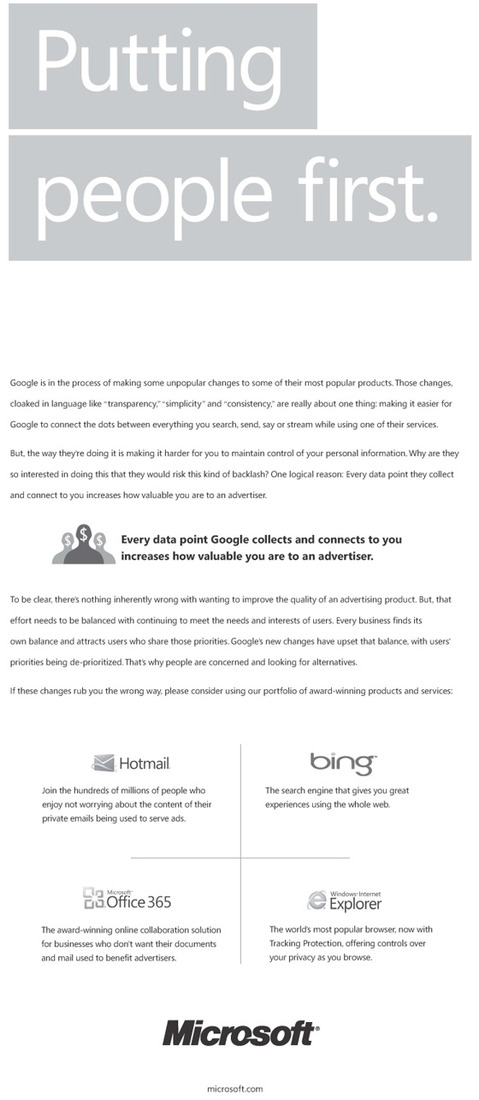 { Source: theverage}