Intel came out with its Q4 2011 results recently; so did Sony Ericsson, Google and Windows. To sweep them all off the floor Apple has announced its record breaking Q1 2012 report on January 24th. The company announced quarterly revenue of $46.33 billion and a quarterly net profit of $13.06 billion. Gross margin of 44.7% was observed which compared to 38.5% in the year-ago-quarter is an impressive growth. 58% of the quarter's revenue was generated from International sales.
The company managed to sell 37.04 million iPhones, 15.43 million iPads, 5.2 million Macs and 15.4 million iPods in the quarter. 128% growth was seen with respect to iPhones over the year-ago-quarter. 111% growth was seen with respect to iPads, 26% and 21% growth was observed in case of Macs and iPods respectively.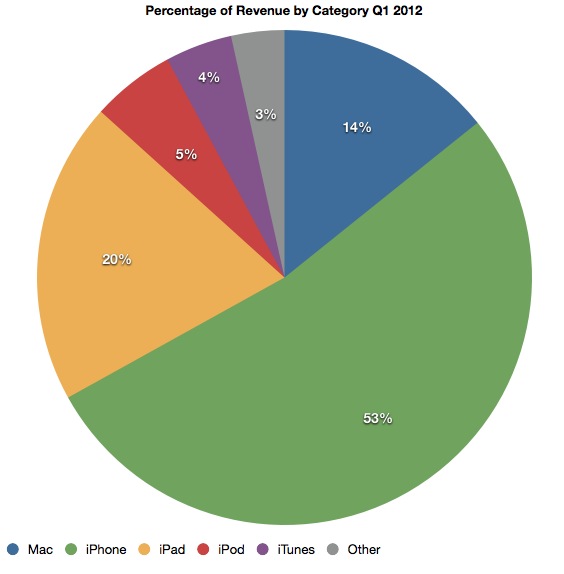 "We're thrilled with our outstanding results and record-breaking sales of iPhones, iPads and Macs," said Tim Cook, Apple's CEO. "Apple's momentum is incredibly strong, and we have some amazing new products in the pipeline."
This is the first quarter with Tim Cook being the CEO and he is really happy with his first quarter's outcome. iPhone 4S was the most popular phone sold in this period, considering it was the much awaited phone. The previous iPhone was launched way back in June 2010.
Apple- with its 37.04 million iPhone sales- has put its back in front of Samsung which sold 35 million Smartphone's in its most recent quarter. And to top it, Apples CEO Tim Cook also claimed that the sales would have been even more higher had company managed more supply.
The holiday sales, Black Friday sale and the most recent Dragon sale conducted by the company in Asia-Pacific has helped Apple in reaching such figure. Apples result also lifted shares of smaller companies that supply chips for the iPhone like– TriQuint, Cirrus Logic Inc., Broadcom Corp and Skyworks Solutions.
Apple has decided to concentrate on China in this quarter, as the Chinese market has a lot of space for penetration in the Smartphone platform. But Apples recent moves in China, like the Sanlitun store issue and pulling back all its iPhone from its 5 stores on the Chinese New Year, will bring its sales down considerably. The company is expecting the much anticipated iPhone 5 release to create as much of a buzz as iPhone 4S did and will help the company to boost its sales in the present quarter.
Source: Apple