Work environment plays a major role behind employees and company success. Currently, there are numbers of companies all across the world in which billions of people are burning their physical/mental oil every day. But, only few of it inspire its employees to do their work in a pleasant manner. Taking the view of all these perspective, a survey was conducted which reveals the list of top 100 companies where employees should look for a position in order to get the best working ambiance and culture.
Internet giant Google occupies the top podium followed by Boston Consulting Group and SAS institute. This directly points out that Google takes care of their employees in much appreciated manner compare to other companies. It organizes various entertainment events for their employees at regular interval of time and also encourage them to stay engaged with off-the-job activities available inside the campus like Games, mentoring, research, non-IT acts etc.
Interestingly, in the top 10 list none of the top 3 software or electronics companies were able to make their presence. This means employees of Top 3 software or electronics companies are not much satisfied compare to employees of internet giant Google or Boston Consulting Group.
However, software companies like Microsoft, CISCO, and Accenture are able to make in the top 100 list to work for.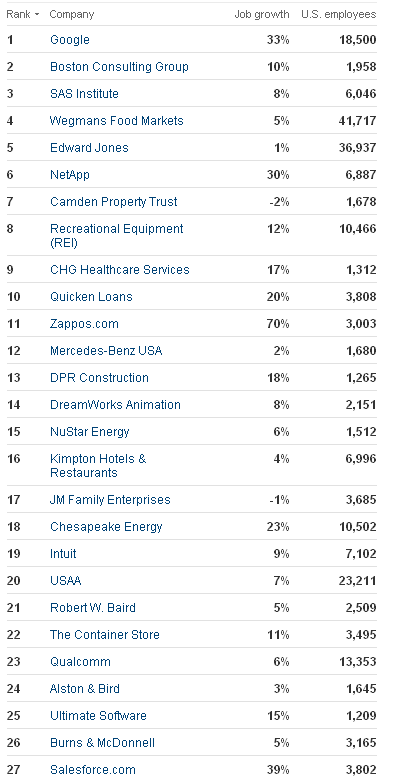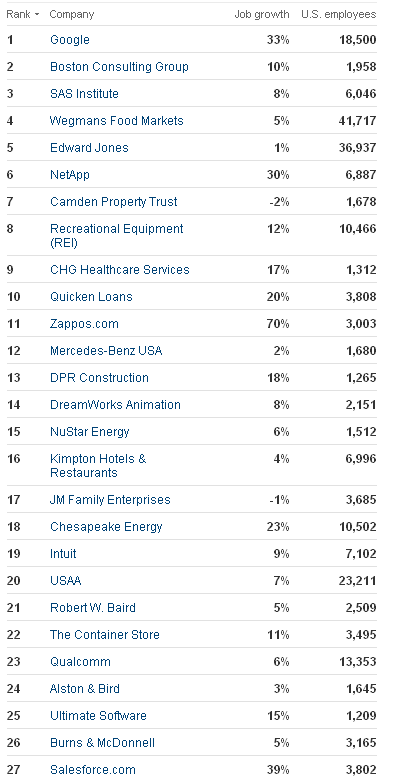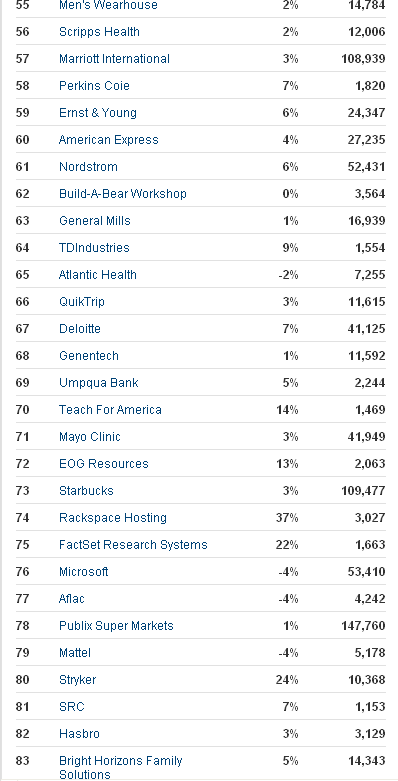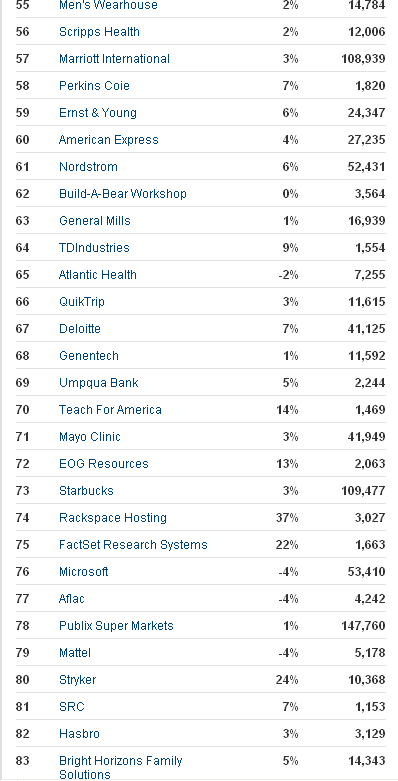 Surprisingly, none of the top 3 handset manufacturers  are in the list of top 100 companies. Even Apple – which has captured whole world and has been knows as one of the most valuable brand among people –  couldn't make in the list of top 100 companies. Also, Samsung the world leader in Smartphone segment is unable to crack the top 100 companies' landmark. These points directly enlightens that instead of being world leader in their respective segment these companies are unable to fulfill the needs of their employees. Their main motive is to promote their business instead of inspiring and motivating their employees.
Personally, I feel encouraging employees and creating healthy environment help in getting better output for companies as employees are the backbone behind every company success. Also, companies should focus on employees personal productivity as well as growth to keep their motivation level at peak. If you are an IT professional and don't see your company in above list, probably you would like to forward this to your HR department. You never know, if they are open to adopt a culture from top companies of the list and go through various case studies to improve company's environment for betterment.