Despite of market melt down and intense competition from market rivals, world's biggest search engine Google has managed to sustain the growth rate and secured $10.58 billion as revenue in Q4 of 2011. Google's revenue in 2011 recorded 9% Q-to-Q growth and as predicted recorded 25% Y-O-Y growth in 2010 – 2011.
"Google had a really strong quarter ending a great year. Full year revenue was up 29%, and our quarterly revenue blew past the $10 billion mark for the first time," said Larry Page, CEO of Google. "I am super excited about the growth of Android, Gmail, and Google+, which now has 90 million users globally – well over double what I announced just three months ago. By building a meaningful relationship with our users through Google+ we will create amazing experiences across our services. I'm very excited about what we can do in 2012 – there are tremendous opportunities to help users and grow our business."
We had expected Google's overall revenue in 2011 to be settled somewhere around $37.82 billion which is almost precise to its overall revenue of $37.9 billion. If the same trend continues we can expect the company's overall revenue to be $48.03 billion in the year 2012.
Google Site Revenue:-
Sites owned by Google generated revenue of $7.29 billion which accounts to 69% of the total revenue in Q4 2011. A 29% increase over Q4 2010 revenues of $5.67 billion.
Google Network Revenue:-
Sites who are partners of Google generated revenues of $2.88 billion which accounts to 27% of total revenue. 15% increase is seen over Q4  2010 with revenues of $2.5 billion.
International Revenues:-
Revenues generated outside US totaled to $5.6 billion, representing 53% of total revenue in Q4 2011.
UK generated a total sum of $1.06 billion in Q4 2011 representing 10% of the revenues.
Paid Clicks:-
34% increase was seen in the revenues generated from paid clicks which include ads served on Google sites and partner sites. 17% increase is observed over the Q3 2011 revenues.
Cost Per Click:-
8% dip in revenue generated was seen over Q4 2010 and 8% decrease in revenue was observed over Q3 2011 as well.
Cash:-
As of December 31,2011 cash, cash equivalent and short-term marketable securities of $44.6 billion have been reported, which is $2 billion more than that in Q3 2011.
Head count:-
Google has over 32,4267 full-time employees. It had 31,353 full-time employees in Q3 2011. A total of 1114 people have been hired in a period of 3 months.
TAC:-
Traffic acquisition cost increased to $2.45 billion in Q4 2011 compared to $2.07 billion in Q4 2010.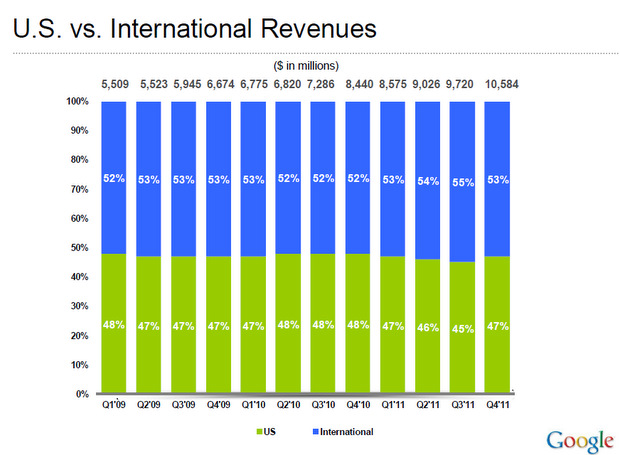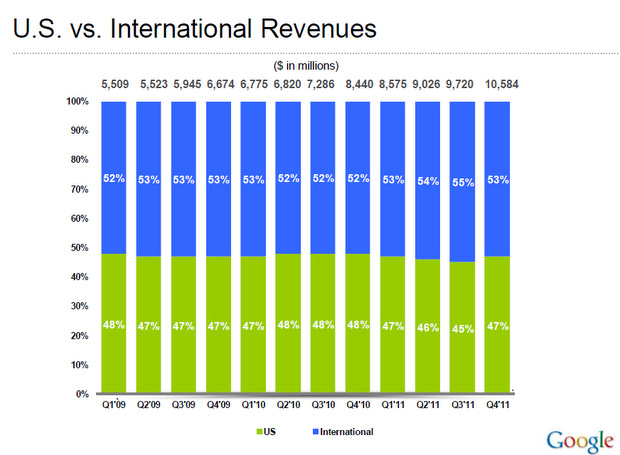 As seen above Google has been consistent in revenue generation in the US and international market; with 1% give or take.
Google has been performing consistently and if the same trend continues it will be able to generate revenue of $11+ billion in Q1 2012. And with the speculated report of Google securing 9.56% of global Ad revenue in 2012 we can expect revenue generated to be much more.
Source: google investor