The cut-throat competition in the mobile phone industry, specially the smartphone segment, is making many electronic giants sweat heavily. Blackberry,a well-acclaimed smartphone manufacturer had already incurred heavy losses last year and now its Sony Ericsson's turn. Sony Ericsson recently released its Q4 and FY 2011 financial logs, and the stats are showing a serious speed breaker on its road map.May be, the joint-venture, which is to be completely owned subsidiary of Sony this year, the reason for the dip in the performance. The Q4 results show that final year sales is the whole-sole factor that gave such a knock to the overall performance of Sony Ericsson this year. The main headlines of the report as announced by Sony Ericsson are :
Q4 loss reflects intense competition, price erosion and restructuring charges
65% year-on-year increase in Android-based XperiaTM smartphone quarterly sales
28 million Xperia smartphones shipped to date.
Sony Ericsson witnessed heavy loss in both sales volume and value in Q4 2011, which resulted in a total loss of €207 million. The company only shipped 9 million phones, which is not in a good shape as compared to 11.2 million shipping in Q4 of 2010 and 9.5 million in Q3 of 2010. The pathetic performance of Q4, the year usually the most profitable quarter of the year, Sony Ericsson ended the year with a net loss of €247 million. Sony Ericsson also lagged behind in yearly sales as only 34.4 million Sony Ericsson handset found their new owner in 2011 as compared to 43.1 million units in 2010. Below is the complete report to have a look at.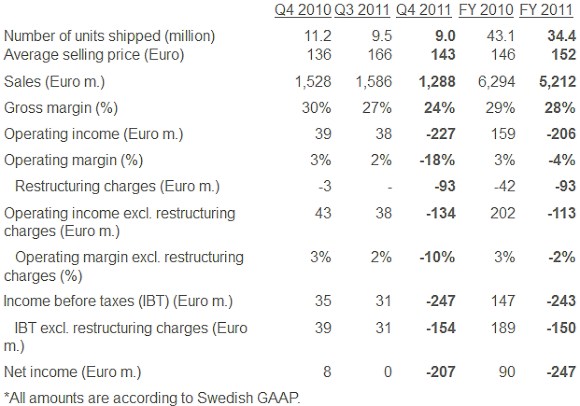 The road-map for Sony Ericsson doesn't seem to be smooth ahead as it has to compete with major electronics giants striving hard with their innovative smartphones like Apple,Samsung,Motorola etc. Samsung is already making other companies sweat like nothing and Apple iOS is regaining its market share as the latest report from Nielsen suggests. Under such cut-throat competition, Sony's Xperia S and Xperia ion will be able to perform or not, must be an interesting subject to notice.
Bert Nordberg, President and CEO of Sony Ericsson commented: "Our fourth quarter results reflected intense competition, unfavorable macroeconomic conditions and the effects of a natural disaster in Thailand this quarter. We are aligning our business to drive profitability and to meet customer needs. In spite of these challenges, throughout 2011 we've shifted our business from feature phones to smartphones, and our Android-based smartphone sales in the quarter increased by 65% year-on-year. The Xperia portfolio, including the recently announced Xperia NXT series, will serve as a cornerstone of our smartphone lineup in 2012."