The future looks bright with the upcoming devices getting thinner, lighter and faster. It won't be long when speed and performance would be at our hands in the daily life transition. At CES 2012, many companies have come up with cutting edge devices and peripherals. LG introduced its Smart TV, many Smartphone companies came up with their new mobiles and many Tablets were released. Intel also unveiled its plan of making Ultrabooks- the next big thing in computing.
Intel has come out with its Ultrabook line up to take on the MacBook Air. More than 75 models of Ultrabook are expected to be released in the market this year. Intel is gearing up for its biggest marketing push since the Centrino lineup.
Dell, Lenovo, Samsung and a few other companies have collaborated with Intel in manufacture of Ultrabooks. HP's Envy Spectra Ultrabook was named winner at CES in the PC category. Lenovo has come up with its IdeaPad YOGA Ultrabook. The name YOGA was chosen because of its ability to have its screen flipped 360-degree and transform it into a Tablet. Acer's Aspire S5, Dell's XPS-13 and Samsung's Series 9 are few of the devices which fall under the Ultrabook category.
httpv://www.youtube.com/watch?v=IP6g-FoP5Ao
Ultrabook's are proving to be a driving force for the Solid State Drives(SSD) technology. They have been effective in replacing the hard disks used in normal PC's with SSD's, which provide faster computation and consume less power. Without having to face the risk of crash, they prove to be the best replacement for the upcoming PC's.
Ultrabooks promise to be the best replacement for the present day laptops with its light weight of around 3 pounds and high performance. With Intel's next generation Core, the Ultrabook will be capable to provide decent 3D graphics performance. With its long battery life and instant ON features Ultrabook's will be a great experience to the users.
By adding touch screen features to the Ultrabook, PC makers are trying to blur the line between Ultrabook's and Tablets. With its high performance, light weight and touch screen capability it's not far when Ultrabook's will succeed in replacing the Tablets.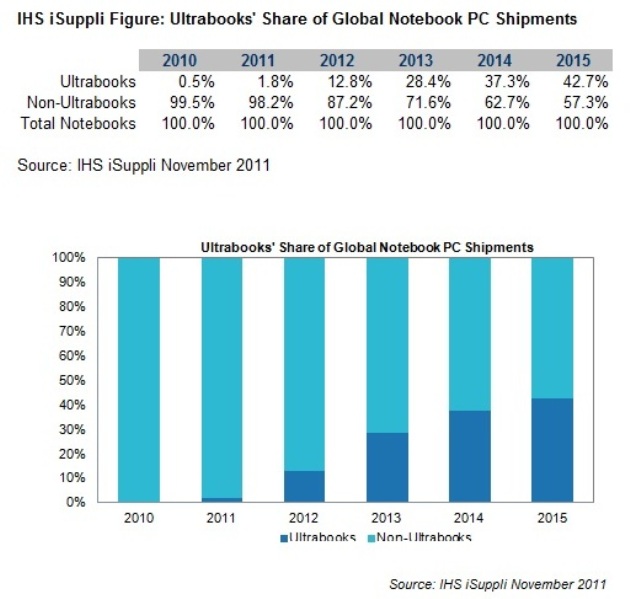 Based on iSuppli's estimate, Ultrabook sales are expected to surge among the total Notebook sales from the year 2012 to 2015. The Ultrabook is expected to grab 42.7% of the total Notebook market by 2015. These are the estimated figures before the CES, so we can expect sales to be much more than what is expected according to the report.
As Intel is trying to keep its Ultrabook lineup's below $1000 price tag, it could provide intense competition to Apple's MacBook Air which has a base price of $999 and the other higher models costing more than that. The cheaper price would prove to be a plus point for the Ultrabook sales.
Intel is nowhere to be found in the Tablet and Smartphone's market. Most mobile devices run on processors based on chips licensed by ARM, Qualcomm, Nvidia and other manufacturers. Ultrabook has begun to put Intel in the position of strength for PC's. With such high performance and portability Ultrabook's are here to stay and will make a huge impact in the overall Notebook sales.
Image Credi: venturebeat