Samsung, a major electronics manufacturing company, proved its eminence in smartphone market by manufacturing a record number of smartphones in 2011 but lagged in overall production of complete mobile range than Nokia. Nokia is leading the overall mobile industry though its facing a steep downfall in its production. Samsung gave a blow to their own sales record of 2010 by selling 300 million phones in 2011, which are really impressive stats. In last year, Samsung  marked an astounding increase (21.7) in their revenue from Indian market which counts around 5,720 crore in the fiscal year 2010-2011 while Nokia dominates with its 39 percent of Indian mobile market share but didn't show any improvement last year in its sales record. Below is the financial statistics of Samsung in 2011 as provided by Samsung.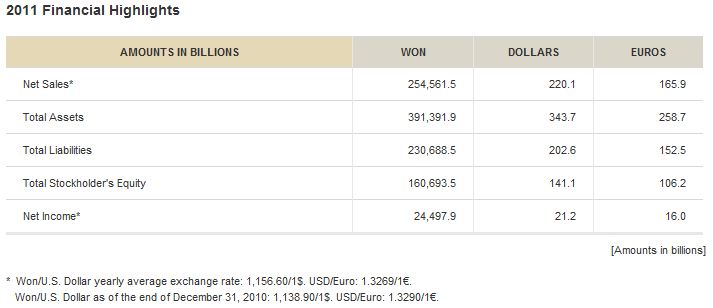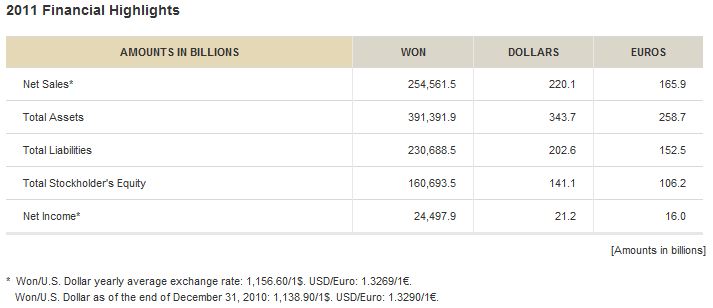 Samsung Chief Executive Choi Gee-sung stated in Las Vegas on Monday that the company overtook Nokia in revenue terms in its latest reported quarter and was highly confident of defeating Nokia in shipments this year.
"It really highlights the level to which Nokia has struggled to retain momentum through 2011," said Tim Shepherd, analyst at technology research firm Canalys."

"Samsung is really charging forward at the moment. It is delivering really compelling products to the market and consumers are responding," he added.
According to the latest research by well-acclaimed company Reuters, Nokia was expected to sell 418 million phones in 2011, whereas Samsung to sell 320 million. The gap would narrow this year to 388 million and 359 million respectively.
"Samsung is getting closer to Nokia very quickly. Their smartphones strategy has proven right and on feature phones they are growing fast in emerging markets too," stated IDC analyst Francisco Jeronimo.

He added saying,"Samsung became a recognized brand and their successful smartphones are helping their feature phones business in regions where smartphones are still too expensive,"
Samsung Profile 2011
With so many polls in the favour of Samsung, it's very likely that Samsung will be a global leader of mobile industry in near time. Samsung recently reported a 6.5 percent rise in 2011 revenue to 164.7 trillion won ($141.54 billion) which is a remarkable growth shown by Samsung. It will be really interesting to witness how Samsung will perform in 2012 as analysts expect slowdown in cellphone market growth in this year because of weak demand seen in Western Europe against powerful demand for emerging markets, which have been statistically Nokia's strength.