Apple has become one of the most dominating brands of the world, and now, wide sequences of their products are available in the market. Apple is a big fish of the smartphone and laptops segment; in addition to these, its effect can be seen in the traditional PCs and Tablets market sectors too. An analysis firm—Forrester—has reported that Apple is going to change the global computer equipment market outlook in coming two consecutive years—2012 and 2013. Apple is going to sway a large global population in next two consecutive years. That's why the company is being considered as the most disruptive force for other companies, like Wintel, in the PC and Tablets sectors.
Forrester has estimated that Wintel's PC and tablets sales are moving down in these consecutive two years—2012 & 2013. The firm also reveals that, previously, Dell, EMC, Fujitsu, HP, Hitachi, IBM, Lenovo, NEC, Sun, and Unisys were the main players of the computer equipment market among businesses and government sectors. But now, the scenario has been changed; Apple has become most popular and widely preferred among business and government officials.
Presently, the traditional PC market is dominated by Microsoft Windows and its hardware manufacturer partners like HP, Lenovo and Dell. However, in upcoming two years, the market would be dominated by Mac and iPad due to the eagerness among IT corporate, small business owners and professionals. While IT corporate want to own an iPad but not to Mac, whereas, small business owners and professionals would like to have blessing of both the devices for the personal and official use respectively.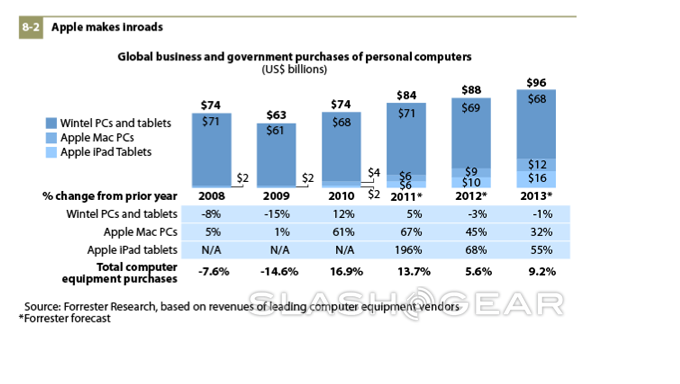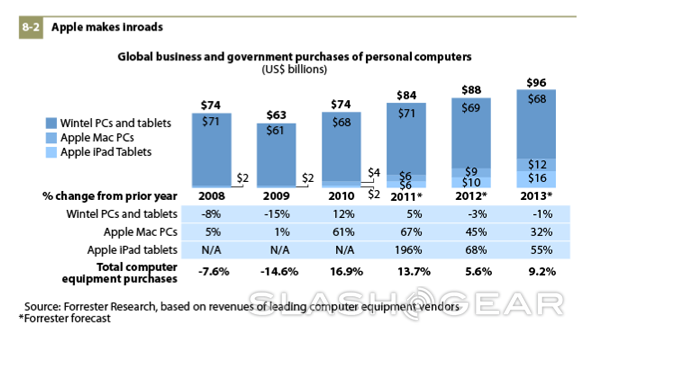 It has been expected that iPads would make revenue of $6 billion, $10 billion, and $16 billion in years 2011, 2012, and 2013 respectively. While, Macs are going to create revenue of $6 billion in 2011, $9 billion in 2012, and $12 billion in 2013.
Despite the growth of computer equipment industry from $84 billion in 2011 to $88 billion in 2012, up to $96 billion in 2013, the market's grasp by other hardware manufacturers – like HP, Lenovo and Dell – would be plummeted.
The firm has projected the revenue for Microsoft, which would decline from $71 billion in 2011 to $69 billion in 2012, and go further down to $68 billion in 2013, in the PC and Tablets sector.
Apple is going to dominate over the maximum portion of the market; either it may be traditional PC market or unconventional Tablets market. Apple has become first preference in businesses and the Government sectors. Apparently, it's difficult for IT corporate and even small business owners to immune themselves from the lure of Apple's products.
Chart Credit: SlashGear