Presently, Intel seems unswerving   about its pronouncement to make ultra slim tablets in order to grapple Apple's MacBook's lineup in the market. Say, this is another arrow on Intel's Bow to filch the market share of its top rivals in the battlefield. Lenovo is going to introduce a reinvigorate version of its ThinkPad X1 and a brand new ThinkPad T430u in Q2 of 2012. The price of the both laptops has been kept $1,599 and $849 respectively.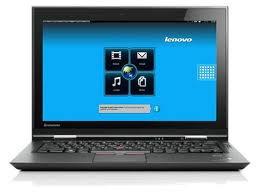 The 13-inch upgraded version of ThinkPad X1 has been manufactured to target the business executives. The laptop is equipped with Intel's integrated chip which would enhance the CPU performance by two folds and will also provide quadruple graphics to the device. There are lots of outstanding features in the laptop which crafts the device unique, including HD display with Corning Gorilla Glass, HD webcam, and Dolby Home Theater Sound. In addition to these privileges, the laptop is streamlined with both HDMI and Intel Wireless Display Technology. The company is providing the amenities of an encrypted hard drive, remote system management, and fingerprint reader especially for the satisfaction of the IT admin.
There has always been an issue related to the battery's life while users either deal with a number of apps or playing with the games. That's why, the company has addressed the issues with two different features of the battery—Low-Power Media Mode and RapidCharge technology. The Low-Power Media Mode is powered by separate Qualcomm processor which loads up the custom operating system that can swallow up the battery life shortly. The company has reported that the longevity of the hybrid X1 would be 10 hrs if it's customize to Instant Media Mode.  On the other side, RapidCharge technology allows users to charge 80% of the battery within 30 minute of the time frame.
These were the features of hybrid X1, now it's quite worthy to aware with Lenovo's lower end business scale ThinkPad T430u. The company has entitled the laptop with the name "Ultrabook".  Everyone knows that Intel had proclaimed about its revolutionary project in the beginning of the last year. Intel had clearly stated that the company would launch its laptop with the price tags less than $1000 without comprising with its hardware qualities.
Here, ThinkPad T430u is an example of Intel's vision which would have the best options of the Intel core processor and the integrated NVIDIA graphics. Along with, it possesses SSD or massive 1TB traditional hard drive, six hour of the battery life and quick boot features.
Definitely, Lenovo has endeavored to manufacture a high-end world class tablet which would suite to business class community. Both the laptop has been blend with implausible features and it's not so thorny to say that the device would certainly sway to folks.