Google's social media arm Google+ is growing with rapid pace. Today, Paul Allen – An analyst who is tracking Google+ since inception – has said that Google+ users base has reached 62 million and is expected to touch 300 million by the end of 2012. Currently, near about 625,000 new users are signing up daily on Google+ and is expected to touch 700,000 soon. If the growth fashion continues then Facebook need to reinvent something more interesting and absolutely unique to lead at top position.
In last few months Google+ has launched several features which has attracted more number of users and the data also states that Google+ growth rate started accelerating after the launch of its API and Open Access to users. Also, it's recent launches like noise control, changes in pages and photo light box have helped a lot in trapping more number of users.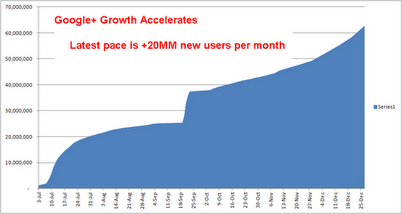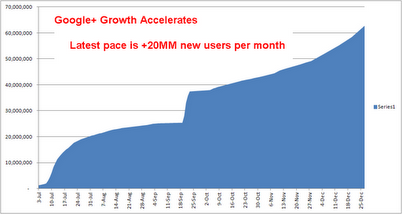 Interestingly, last month has resulted as the best duration for Google. Near about 25 percent of the overall users have joined Google+ in just 30 days. This is mainly due to addition of enhanced and attractive features that took place recently.
Here is the progress graph of Google+ as per number of users added :-
July 13 – 10 million – Within just 15 days of launch, 10 million users were added.
August 1 – 20.5 million – In just 32 days it reached to 20.5 million and made the record for achieving such milestone is a very short span of time.
September 1 – 24.7 million – In 52 days it reached 24.7 million.
October 1 – 38 million – in 72 days it touched the milestone of 38 million. Compare to last month figure, 13.3 million new users were added mainly due to API and Open Access feature.
November 1 – 43 million – growth slow down since due to absence of any new significant feature introduction.
December 1 – 50 million – growth accelerated due to addition of enhanced features.
December 27th – 62 million – In just 27 days 12 million users have been added, mainly due to improvement and addition of more features.
January 1 – 65.8 million (forecast)
February 1 – 85.2 million (forecast)
With the above mentioned rate Google+ will achieve 100 million users mark by 25th of February next year and by the year-end it might reach 300 million.
Undoubtedly, the growth of Google+ is making Facebook little annoyed. And, with the current growth fashion, I see no sign of relaxation for social media leader for whole next year, especially when month-on-month growth is declining. But this is obvious as Facebook has jumped beyond to an explosive growth and is now on steady growth cycle.