Social media titan Facebook engagement rate has increased in an exponential manner throughout the year. It has dominated over its arch rivals Twitter, Google+, LinkedIn and MySpace. Facebook accounts for 95 percent of social networking time on internet in United States. It has been found that on an average 1 out of every 7 minutes U.S online users spends their time in using Facebook . This is mainly due to the large user base and the features which are offered by social media titan Facebook to users.
However, LinkedIn is the most dominant professional networking site in U.S, which is mainly due to U.S job crisis or increasing unemployment rate which has reached to 8.6 percent. Unemployment in U.S. has fallen down from 9 percent to 8.6 percent, and up to some extent, credit goes to LinkedIn and Facebook. While Twitter acts as a backstage player in providing platform to wire services to content producers and distributors.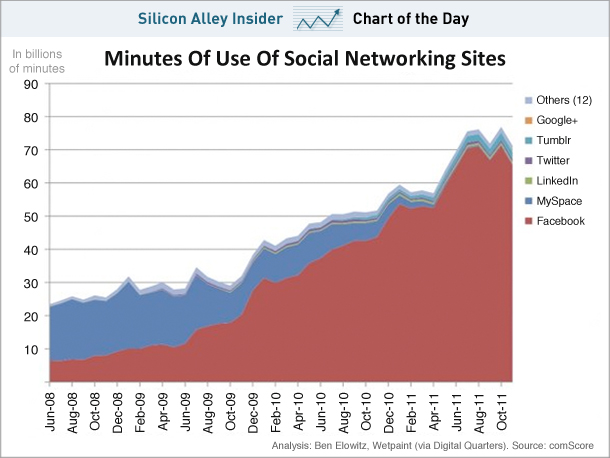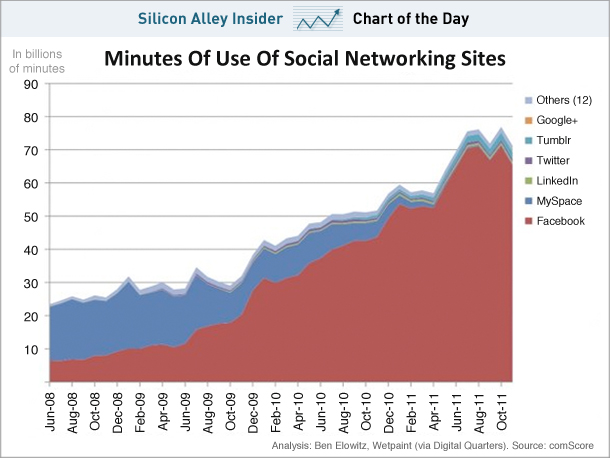 Personally, I think in last few months social media titan Facebook engagement rate is increased due to addition of new features which are quite attractive and unavailable on other social networking sites. Also, Facebook has proved itself as a best place for job seekers. In last one year it has helped more than 18.4 million users to get job. This is also one of the major reasons behind such a high percent of engagement rate.
Hope Facebook grows further and helps users in the entire field of networking.
(Image Source: – Ben Elowitz of Wetpaint.)