A market research of well-acclaimed mobile application stores has surfaced itself with an amazing fact and figures. The research is done by the famous Distimo and is regarding total revenue, proportion of downloads and availability of games on Android,iOS,Windows Mobile and Blackberry OS. With the invent of monstrous and performance-hungry processors, and powerful yet power-saving GPU's has given rise to variety of mobile hardware and ultimately this has resulted into the development of power-hungry applications and games for various mobile platforms like iOS, Android etc. Games like Fifa'12, Assassin's Creed, Infinity Blade II,Grand Theft Auto III,Shadow Gun etc are making huge revenue and pushing the performance of present mobile hardware to their limits. The most amazing fact that surfaced recently was that the Apple App Store is generating six times more revenue than the Android Market. The research is done over the 200 top grossing applications and games. The top revenue generated by Apple iOS directly or indirectly shows the supremacy of its hardware over the other android devices.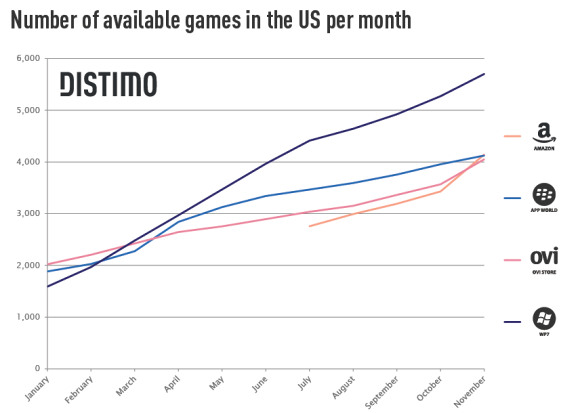 The interesting fact about the revenue recorded by these platforms is their in-app purchases or transactions. The in-app purchases like the games featuring online items purchases through it, are gaining heavy interests over the application stores. 50 percent of the revenue of those top 200 applications in iOS platforms comes from these in-app applications and the same figure rises to 65 percent for Android platform. The downloads at Apple's App Store from the Chinese corner has increased quite well since January 2011 as reported by the research shown below.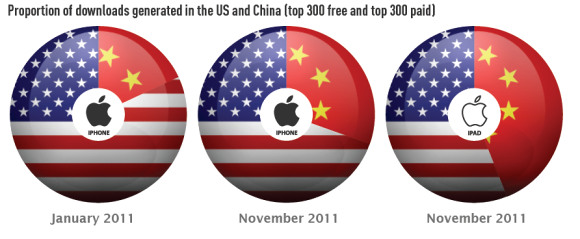 The research has shown that Apple still dominates the mobile revenue despite of various competitive drawbacks and its iOS platform is much move favourable for the mobile application developers.
courtesy : www.gsmarena.com