It's well known that RIM is struggling to regain its smartphone market status but proving it futile. However, RIM has attempted to stir the user's faith by introducing PlayBook line up but that also seems an unimpressive. In recent, the company has announced its Mobile Fusion which would help corporate manager to integrate and control a number of operating system into single mobile ecosystem. The company has tried out number of experiments to overwhelm user but always it has plummeted the company's toil.
Shockingly in last week, the company's stock finished at the value of just $13.44 per share and its total value was only $7.04 billion which is less than its actual worth $7.08 billion. It's really astounding that the company has reached below its net worth within couples of months after three days outage.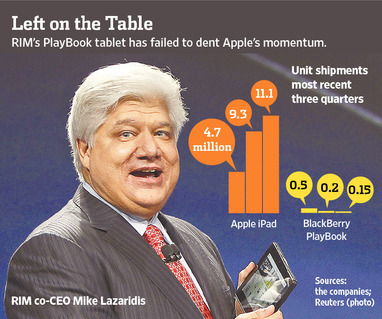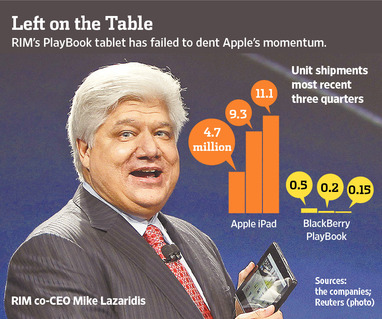 While Apple's App store's valuation alone is approximately equal to the RIM's current valuation, its difficult to find our RIM anywhere  against Apple's total valuation which is worth $354 billion. Clearly, Apple is 50% more in total value compare to RIM in present.
The company has recently launched its lineup of playbook tablets which has failed again to impress the user's heart. The company has succeeded to manage only 150,000 tablets' shipments in the last quarter; meanwhile, Apple sold more than 11 million tablets during same time. It's quite obvious that Apple's iPad has completely obscured the RIM's tablet market. However, the company foresees that the shipment of tablet might grow between 11-12 million next year.
After BASIS litigation over RIM for BBX, the company had renamed its new OS as Blackberry 10 which is expected to launch in early next year. However, just last week company has deviated from its announcement stating that the operating system will be delayed until the "second half of 2012".
On the other side, Apple's iOS Apps Store has been playing the vital role in the success of its iPhone and iPad in the market. And most important, the Apps store of the company has contributed 300% more revenue compare to its rival Android Market place.
RIM is definitely far behind its competitor like Apple in the smartphone as well as the tablet sector. The last week's market value reveals that the company has slipped below its worth value. The new platform for the company is too little and too late in orders to competent the rivals.