Taking a step further Google+ has added a new feature in "Hangout" to make it more useful for users. Today, in its official Blog Google has announced that it is rolling out number of changes in Google+ Hangout. Now, users can go beyond status updates and connect with people to whom users want by using multi-person video chat option.
There are certain status updates which excite users like "brother gets engaged", "friends get job" etc and as a consequent of excitement they probably want to make face–to–face contact, but due to technical unavailability they were unable to so do. Now, with the improved features of Google+ Hangout, users can made video conversation with each other in a simpler manner. Interestingly, this new feature will help users in hanging out with others who have updated their post on Google+.
Users just need to click over Hangout option mentioned underneath in a post which passionate them. Google+ will automatically add your invitation to the comment. Also, users can see the invitation of hangout mentioned in the comment section of the post.
The new features of Google+ hangout are also going to come on mobile devices via Google+ Messenger. This means that now users can do multi – person video chat from their mobile phones also, which is really an awesome feature.
One of the most important features – which I liked the most – is the 'dial-in-friends' option. This feature will help those users who don't have webcam or front-facing camera. With the help of hangout users can call their beloved one throughout the world. Currently Google+ is offering free call to the U.S. and Canada while for rest of the countries call charges are minimal.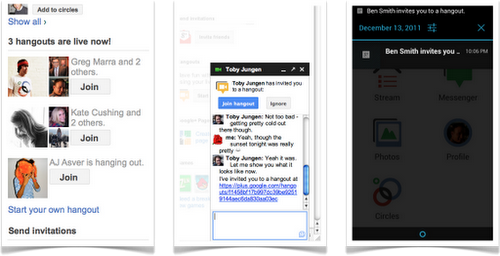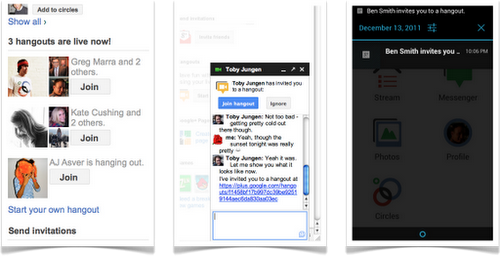 Google+ has added one more features which is really useful for users; It will inform users when there loved one invite them for hangout. Also, it has added option in the right hand side of the stream where users can see up to three live hangouts. Now, users will not miss a single chance to connect with their friends, family and loved ones.
For having fun while hanging out on Google+, company has helped Google+ community to add millions of virtual moustaches to their faces in November. Now, in December it's planning to add a pair of antlers which will make their face funny and attractive.
Personally, I think Google+ has taken a significant step which will definitely help him in trapping users. Also, the absence of such features in its arch rival Facebook will surely provide a wining edge to Google+ and will surge the market of Google+.
Hope these new features will benefit Google+ in improving the ratio of user engagement which is currently not very attractive. Have you tried out these new feature ? What do you think about these new features Google+ has launched?