Apple launched its iAd services in July last year under the leadership of former CEO—Steve Jobs— who led the Apple's mobile ad service to top position. Last year, the company had 19% of market share in mobile ad business which has dropped, unfortunately, to 15% in this year. As company has found itself in a tough-nut situation against Google's AdMob in mobile ad business, Apple seems to adopt a rather soften approach towards iAd market.
So, what made Apple to loose grounds in mobile ad market when its flagship products, iPhone, is doing great in smartphone segment ? Marketers found themselves in little tense situation due to high-price tag strategy and stringent control over whole process of iAd marketing, Apple maintained. Unlike Apple, Google's AdMob service is more reasonably priced and also widely available for array of devices.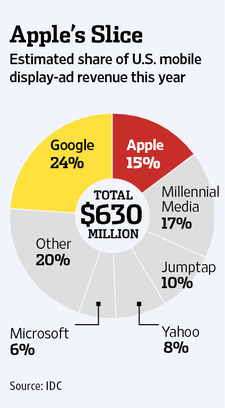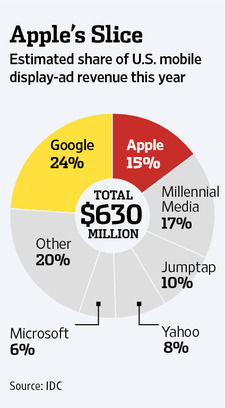 Apple iAd market loss and marketer's distraction have compelled the company to change its strategy. In an effort to counter Google in mobile Ad space, the company is showing more willingness to bargain on the spending commitment. Previously, marketers were committed to spend $1 million, later dropped to $500,000, which has been revised again to minimum of $400,000.
Due to cut-throat competition and market demand company has showed more flexibility in its price structure. The company is also offering advertisers to pay only $10 for every thousand impressions of Ads over mobile. The strategy might give firm competition to Google's AdMob services which charges $4 to $12 per thousand views from advertisers.
The reformed strategy over iAd has pleased marketers and its resulting in the renewal of their deals with the company for future ad on the mobile.
Apple has huge expectation from its iAd market and with the introduction of reformed strategy company is expecting regain grounds that it has mislaid to Google. From the first position last year, Apple's iAd market slipped to thirds position this year and reported to reserve only $95 million out of $630 million mobile ad market.
It's obvious that the mobile Ad market is enormous and has vast opportunities for the companies like Apple and Google. Apple's new flexible price strategy is incredible and might be helpful to regain its iAd market.