Despite of Steve Jobs Sad demise Apple products are still performing above expectation in the market. Besides, iPhone and Tablet, Apple is emerging stronger in Laptop market. Specially MacBook Air has outclassed all other Apple's laptop models in sales figures.
A Recent research by Morgan Stanley, which also involves NPD figures, indicates that Apple's thin notebook MacBook Air captures more than quarter of the company's notebooks sales. Its shipment has risen from 8 percent in first half of the year  to 28 percent now. The rise was registered mainly after the addition of thunderbolt devices in Apple MacBook Air. Apple has enhanced its MacBook Air in summer by adding thunderbolt, which enables MacBook Air to connect to FireWire and Gigabit Ethernet. These two features are not available in previous versions of MacBook Air. This feature has made MacBook Air as one of the most expandable brand for Apple in such short span of time.
However, the popularity of MacBook Air mainly depends upon the design elements and features of the iPad such as instant wake up and Solid storage space. It directly indicates that in coming days MacBook Pro models would, comparatively, slim down and it might come in 15" model by the Q2 of 2012. While on the other hand, slow down in the sales of MacBook Pro has indicated that Apple might decrease the production of MacBook Pro in coming years. It's also possible that in coming day Apple may abandon the large desktop products from the market due to the revolution in the field of mobile PC and mobile products.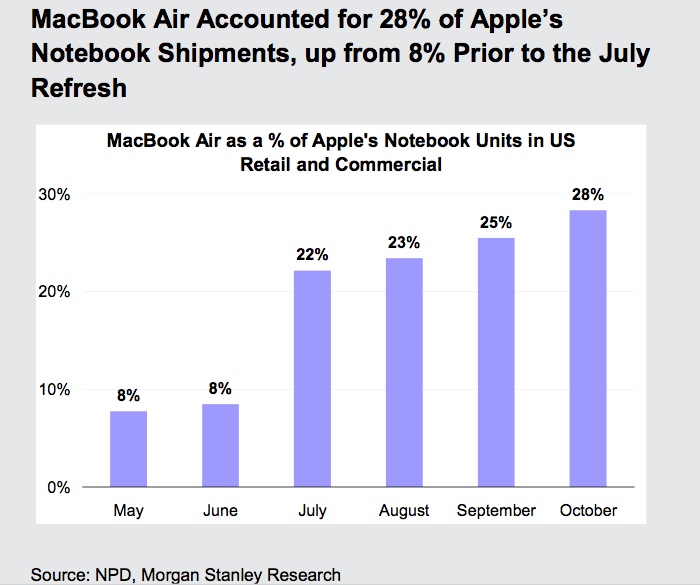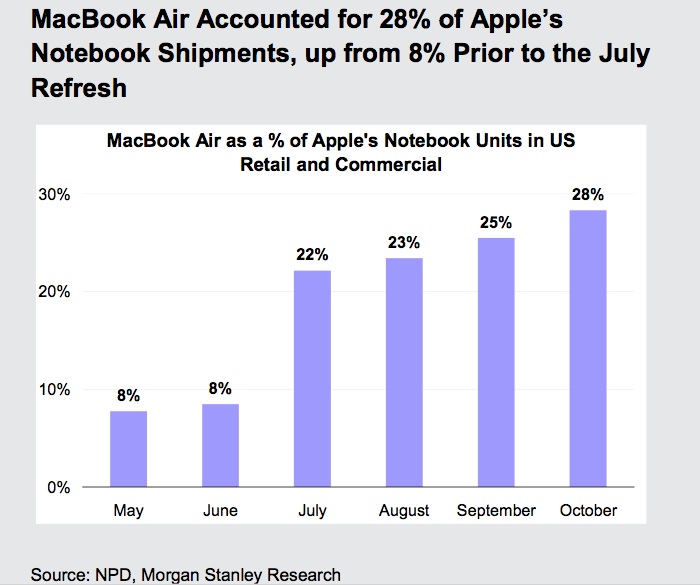 It's interesting to know that Apple's growth has continuously outpaced industry and in coming years we might see Apple iTV loaded with Siri. If it happens, Apple TV will definitely outrage several companies from Television market. Company has already outraged many competitors in past like Sony in PC as well as music device segment. Interestingly, It has also managed to outrage Samsung in mobile segment in past but, in current scenario, Samsung has bounced back with the bang. Samsung has taken the top spot from Apple in field of Mobile devices with the help of Android which has brought revolution in the field of multimedia devices. However, iPhone 4S has outperformed market by its shipment and has made record sales with in 12 hour of pre-sales. It might be possible that Apple will regain its top spot from Samsung in coming months or by Q1 of 2012.
According to figures produced by NPD, Apple has registered growth of 11 percent in overall PC shipments in October this year. Although, retail growth was quite low – just 3 percent – but commercial shipments were up to 27 percent.
Apple has experienced a growth of 20 percent in PC shipments, which is nearly double of the industry compare to its retail shipment which has managed to grow by 18 percent – six time of the overall retail growth of PC makers. Company has also managed to grow in commercial segment; it registered a growth of 34 percent year-over-year.
This month has proved  fruitful for Apple. In this month its PC unit shipment was 17.3 percent, with 23.9 percent of retail shipment and 5.7 percent of commercial shipments.
Hope Apple continues to grow in the same pattern in coming days and we might see many more new exciting launches in coming months.