Professional networking site is riding on bull of launch. It's regularly launching various features to attract more users as well as marketers. Today, LinkedIn has launched a brand new Group Statistics Dashboard which will deliver unique insights into groups. This new statistics is available for every group on LinkedIn and it will focus on three major aspects: Demographic, Growth, and Activity.
Below are the highlights about there three aspects:
Demographics: – This section provides the demographic views of a group. Members can see information including seniority level, function/role, location, and industry of all the professionals in the group. Now it's become easy to learn which groups are local, which groups give how much value to fresher as compare to CEOs, or which group are more focused as per respective industry. Going further, using this section, members can also make the best use of the group based upon the highest number of members from a city, or based on profession or job role.
Growth: – In this it will enlighten how the group has grown eventually. Also LinkedIn has planned  to provide "Sky – rocketing" badge to those group which has grown explosively in a week. Since there maximum number of group, a member can join, is 50, it has become easier for a users to stay connected only with most active or constant growing groups out of million ones.
Activity: – This section mainly focuses on comments and discussions. One can easily see whether the member in a particular group take part in the discussion or not. LinkedIn will also show recent job as well as the promotion counts for the group; a sizeable number which will indicates how many times the group was moderated by manager and members.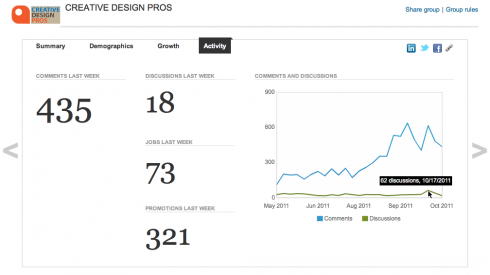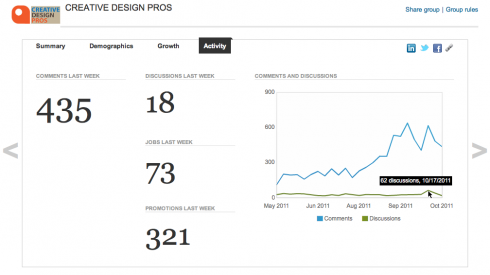 Hope this new changes might benefit users, job seekers as well as professionals from different companies who are leveraging big time over LinkedIn Groups. This will not only save them to stay away from non-performing and non-active groups, but will also help to prioritize their contribution towards groups based upon these aspects.
Have you log-in to your LinkedIn account to see these features? If so, please share your experience with us in our comment box.