With the launch of several new features and strong response from users as well as marketers, it has been proven that micro-bogging titan Twitter is on its way to surpass its competitors in various aspects of social media industry. Its user-base and revenue both have risen in last one year significantly. By the year-end total number of Twitter users from U.S. is expected touch 21 million, out of which one fifth might follow brands on Twitter network.
In a research, jointly conducted by Constant Contact and Chadwick Martin Bailey, it was found that near about 21 percent of U.S. based Twitter users will be following some brands by December end. It has also been researched that majority of the users, around 68 percent, are expecting discount coupons from companies of which they are already customer. Meanwhile, 48 percent of the users have directly stated that they follow brands over Twitter in search of good deals.
It's an interesting fact to know that majority of users on micro-blogging site follow small brands as compared to renowned ones. Users' main motive behind following small brands is to get benefited from the maximum offers and discounts a small brand provides compare to big brands. Report enlightens that 64 percent of users follow between one and four brands on Twitter.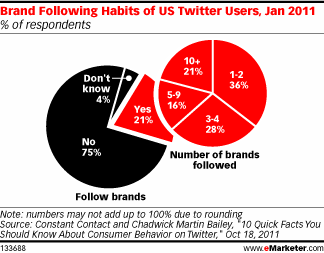 Report also highlights that 61 percent of users on Twitter follow brands to get get instant updates and know what's hot in the market as well as specifications of the product. However, 36 percent of users on Twitter follow brands to know more about the content of the product launched by brands. Surprisingly, 50 percent of users said that after following a brand on Twitter, they became more anxious about the product and likely to purchase that product of same brand.
It's indeed a good news for Twitter as well as brands associated with the company. Near about 60 percent of the overall users associated with micro-blogging site have polled that they would recommend at least few of the brands they follow to their friend and users associated with them over Twitter.
If users stay committed towards Twitter, it may reach to number one position in social media surpassing its nearest rival Facebook. However, Twitter was awarded as the digital service provider of the year for 2011 and if such cooperation continues then it will definitely retain its award for many more year in a row.
Do you think Twitter is helping you in any format of information? If so then share your views with us about your experience in our comment box.