In past few months Google has shown acute interest in music industry. To concrete its presence, it has launched Cloud Service – Music beta – on May 30th this year. Today Company's online video arm – You Tube – has announced to add a new feature for music artists called "Merch Store". This new feature will allow YouTube partners to share their merchandise directly to the users' channel. Currently YouTube has reported 800 million visitors per month.
Now fans can buy artists merchandise, digital downloads, concert tickets and even meet ups from You Tube directly. Above features have been made possible through affiliates network that includes Topsin for merchandise, concerts tickets and experiences; Songkic for concerts; and iTunes and Amazon for music downloads. However, Google is already planning to open an Online MP3 music store in coming weeks.
These new features are added in order to get more users as well as to strengthen the base before launching its upcoming MP3 store in the market. Company wants to take Apple and Amazon head-to-head in cloud music market. Amazon had already launched its unlicensed music beta version called "Cloud Drive" and Apple is on its way to open its music platform by the end of this month or early November this year.
The new You Tube "MerchStore" will roll out globally to music partners in coming weeks. You Tube has not revealed the precise scenery about the financial shred. But said that site will take small percentage of sale in order to cover up the cost.
The new "Merch Store" is like a god gift for artists. Since they can share their music directly with their fans and will get the revenue in return.
Below picture will give proper view how it will look like: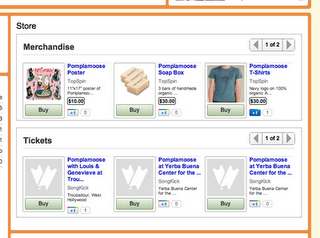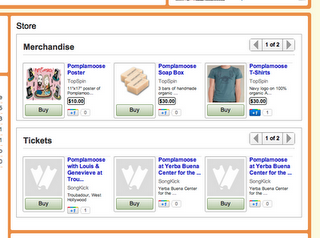 For those who like to know more about "Merch Store", You Tube is hosting a panel on October 20 at Mercury Lounge in NYC. In the event they will share stories with artists who have achieved success on You Tube. There are several artists and the array includes Dru Ha and Buckshot from Duck down Music, Julia Nunes, Karmin, Portugal the Man and Ryan Leslie.
Hey Friends what's your views regarding this new feature by YouTube. Do you think that Google can really win in Music space by all such initiatives ?